Wipro revenue down 3% from March quarter as clients cut spend
BENGALURU: Wipro's performance continues to lag its peers as its revenue declined 2. 8% sequentially in constant currency in the June quarter.
Wipro
had forecast its revenue to grow between -3% to -1% in the June quarter. In dollar terms, its revenue in constant currency rose 1. 1% year-on-year to $2. 7 billion.
The sequential decline in its revenue was led by energy and utilities (down 4. 9%), followed by financial services (down 4. 3%), consumer (down 3. 5%).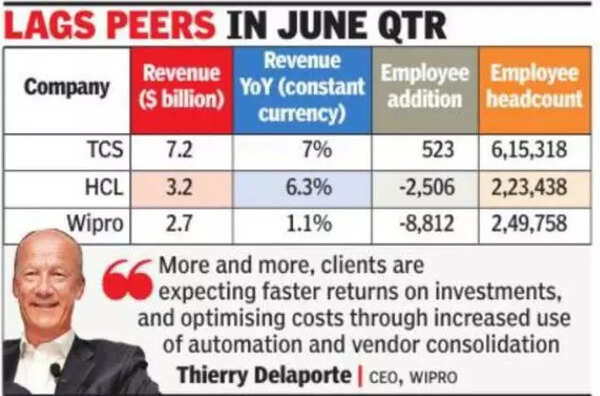 Wipro CEO Thierry
Delaporte
said in almost every industry, businesses have been reducing discretionary spends in response to the weaker macro environment. "That's had an impact on our revenues as well," he said.
Commenting on the demand cycle, Delaporte added he's witnessing tech investment normalise after the sharp acceleration in spending during the second half of the pandemic. "More and more, clients are expecting faster returns on investments, and optimising costs through increased use of automation and vendor consolidation This year, we have to stay agile as we have to see how things evolve in the coming quarters. "