Published on Nov 25, 2022 01:32 PM IST
James Cameron had to lie to Arnold Schwarzenegger's agent to secure Sigourney Weaver for Aliens.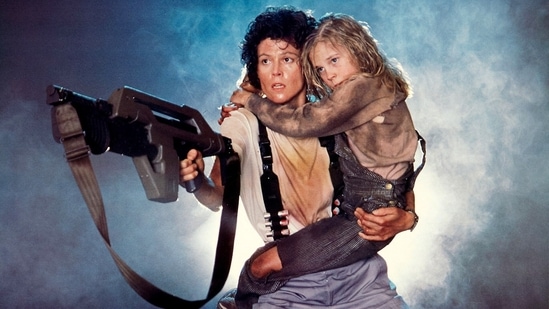 Trust James Cameron to go beyond his way to ensure he gets what he wants. When Sigourney Weaver's Ellen Ripley was almost out from the sequel to Aliens, the director had to lie to Arnold Schwarzenegger's agent to get the actor to sign for the sequel. (Also read: When Leonardo DiCaprio almost lost Titanic as he refused screen test, James Cameron recalls what happened)
When James Cameron co-wrote the sequel to Ridley Scott's Aliens with Walter Hill and David Giler, he safely assumed that Sigourney Weaver was attached to the project. Yet, 20th Century Fox did not comply. In a recent interview with GQ, the Titanic director revealed, "They had assured me that they had [Weaver] under an option for a sequel option. And so I went off and wrote this thing, [like], 'Okay, I'm gonna get to work with Sigourney. This will be cool.'" The director then realised that Sigourney was not too eager to join the sequel, so he bluffed the agent of Arnold Schwarzenegger, and told that the Aliens team was moving ahead with the idea to rewrite the entire script in order to remove the Ripley character from the film and place the Terminator actor instead. James knew that this news would reach Sigourney and her agent, and sure enough it prompted the actress to sign on the project before any changes were even finalized.
"I called up Lou Pitt, Arnold's agent, and I said, 'Lou, we're kind of over this. So, we've decided that we really like the story and all the Marine Corps characters and the world we've created and everything. And really, we've thought about it, and we really just don't need Sigourney," James Cameron recalled. "Now, did I have any intention of doing that whatsoever? No, not at all. But I happen to know that Lou is at the same agency as Sigourney's agent, who was in New York. And I knew that the second he hung up with me, he called him and said, 'Sign Sigourney now.' And guess what? The deal was done in 12 hours after that. So, I never wrote a word of that hypothetical story that I said I was going to do, that I had no intention of writing anyway. Anyway, it worked, and Sigourney got her million bucks, and everyone was happy." the director revealed.
Sigourney Weaver and James Cameron have remained friends ever since, having collaborated in the director's latest feature Avatar: The Way of Water. 20th Century Studios India will release Avatar: The Way of Water in English, Hindi, Tamil, Telugu, Kannada and Malayalam on December 16, 2022.
Subscribe to our best newsletters
Story Saved