'Valuations are not yet attractive for big bets'
Rajeev Misra is the CEO of SoftBank Investment Advisers, which manages the $100-billion
Vision Fund
I with investments in several Indian startups including
Ola
, Oyo and
Paytm
. He has also set up his own fund, One Investment Management, with a clutch of investors from Abu Dhabi, which is looking to back the next set of companies across sectors. In an interview at his tastefully decorated South Delhi home, Misra discusses the strategy for both the funds. Excerpts:
There are reports of erosion in the value of investments made by Softbank Vision Fund, layoffs. Is the situation challenging and what's the road map?
We are no different than any other investors. Vision Fund I was to be a late- to middle-stage investor, we were the only source which could write $1-10 billion single-investment. We enabled some early-stage companies also – like Oyo or Paytm or Ola – to go global. In 2020-21, when the cost of capital was cheap, valuations went high. A lot of companies have to catch up with those valuations by growing into it. Some will, some won't. The Nasdaq hit an all-time high, driven by a bunch of stocks, but we believe that there is a disconnect because you can't have 500-basis-point rate hike and there is no recession. SoftBank is careful as valuations are not yet attractive for large-scale investments. It does not have to do with scarcity of capital. SoftBank Group maintains $38 billion of cash on its balance sheet. The Arm IPO will get us more. Vision Fund I still maintains several large investments, which we have not monetised. We have another $11 billion investment in Didi, which experienced regulatory issues, but it is getting back on track.
Two years ago, we had 500-plus employees in the Vision Fund, this has since been reduced to around 350, which is still a lot of employees. We have 450 portfolio companies, which we are working with to generate value. The objective of SoftBank as an investment arm, not as an operating company, remains intact. The objective of the Vision Funds is to be an investor in a disruptive company, not to be in starting companies. The strategy is unchanged. SoftBank has slowed down in last 18 months because we felt valuations were stretched. We are looking at certain sectors much more closely, such as Generative AI to see its applications – applications in Japan, and in different sectors. We are looking at warehouse automation, Vision Fund II has big stakes in AutoStore, Symbotic. We may not pursue some sectors as actively, like life sciences.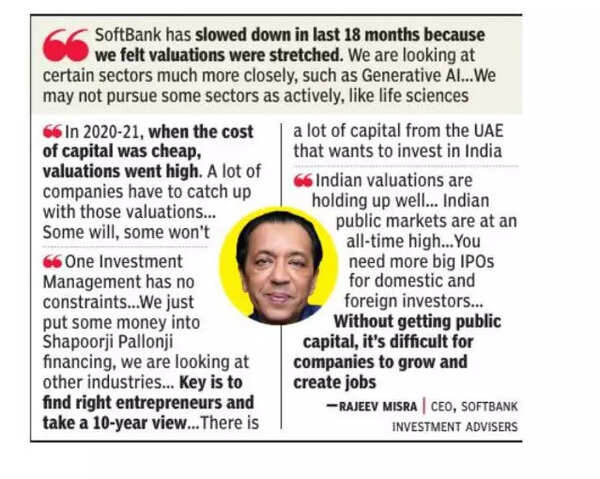 You have been quiet here as well. What about your India portfolio, companies such as Zomato and Paytm have recovered?
We have been quiet for a year but still maintain a large portfolio across both Vision Funds, including Ola, Ola Electric, Lenskart, Flipkart, Meesho, Unacademy. We are very active with a big office. Vision Fund II has not found the right places (to invest).
What about your new fund, will you invest through that?
One Investment Management, where the first close was $7 billion and we want to grow it to more than $10 billion in assets, has no constraints. It can invest in equity, credit, tech, non-tech. We just put some money into the Shapoorji Pallonji financing, we are looking at other industries. The key there is we are looking at industries in partnership with Abu Dhabi Inc (that includes clutch of investors), which is very constructive on India. We are looking beyond the top six-seven entrepreneurs, who may not need capital, to the next generation of companies. The key is to find the right entrepreneurs and take a 10-year view on them. It's very exciting, there is a lot of capital from the UAE that wants to invest in India.
Weren't the investors from the Gulf more interested in infrastructure? Will it extend to consumer industries as well?
Absolutely, they have invested in a lot of companies with the Adanis. They are interested in steel, green, auto parts. They are interested in making money, they are sector-agnostic. They are very keen on India. If any entrepreneur of scale wants capital to grow, we are there. The investment could range from a few million dollars to $1 billion.
Have the Indian startups bucked the trend on valuations? Will the developments at Byju's or the governance issues at GoMechanic dampen the sentiment?
None whatsoever. That happens everywhere in the world. Indian valuations are holding up well. If you are an early-stage startup in the West, it's much more difficult to raise capital. The Indian public markets are at an all-time high and there is a scarcity of big companies like Airtel and others. You need more big IPOs for domestic and foreign investors. The regulator is being strict in approving IPOs, some, rightly so, because of the post-IPO performance of a few stocks. While the retail investor needs to be protected, a balance has to be struck somewhere and it's best for the regulator to focus on ensuring that the process has been followed. Without getting public capital, it's difficult for companies to grow and create jobs. From our Vision Funds' portfolios, there are quite a few companies that want to go public at some point such as Lenskart, FirstCry, Ola Electric.
Some of the startups are planning overseas listing. Do markets in India appreciate the startup business models?
For Indian companies overseas listing does not make sense in today's circumstances unless you are a $100-billion company and the local market does not have the depth. For a $10-billon IPO or less, India is a big market and provides much better valuation. There, they would not even know the name (of the company), in India there is brand recognition. Will it be even covered, it will not even trade much. What would make sense is the Abu Dhabi stock market. The Indian market is giving much better valuation and there is scarcity. The first few IPOs flew because there was a scarcity of tech companies, plus the market was very constructive in 2021 and early 2022, and then the market corrected with the rest of the world.