UN flags 'crushing' global debt crisis: Here's India's contribution
NEW DELHI: Some 3.3 billion people – almost half of humanity – live in countries that spend more on debt interest payments than on education or health, said UN secretary general Antonio Guterres on Wednesday after launching a UN report which revealed that in 2022, global public debt reached a record $92 trillion with developing countries shouldering a disproportionate amount.
According to the report 'A World of Debt', India is shouldering a debt burden of $2.8 trillion.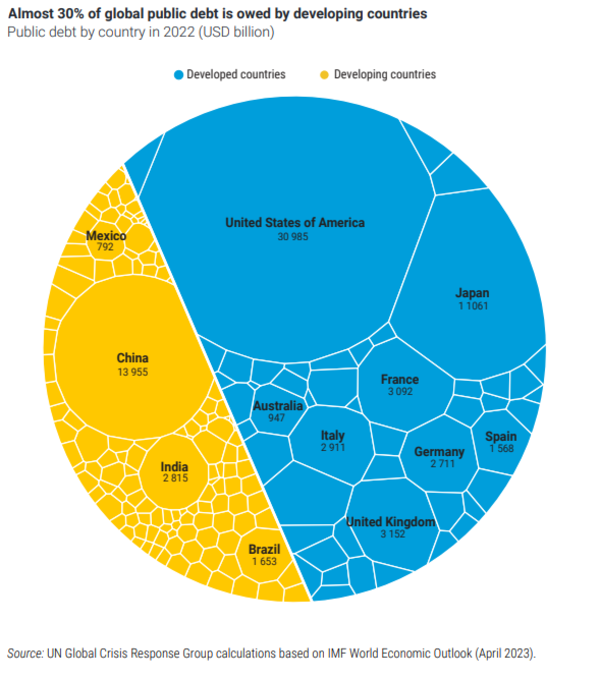 In comparison China has a debt of nearly $14 trillion, which is dwarfed by the United State's debt of $30 trillion.
Developing countries owe almost 30% of the total debt, of which roughly 70% is attributable to China, India and Brazil.
The report noted that public debt has increased faster in developing countries compared to developed countries over the last decade. Consequently, the number of countries facing high levels of debt has increased sharply from only 22 countries in 2011 to 59 countries in 2022.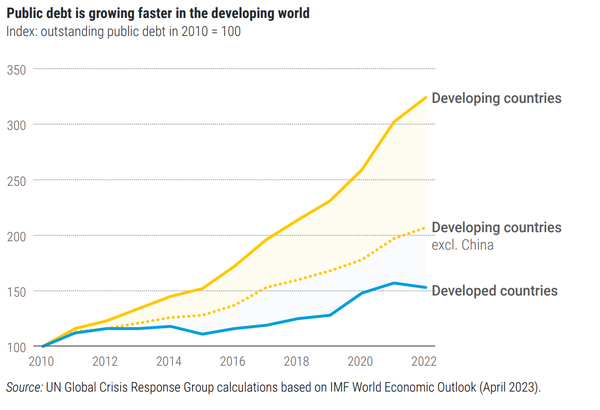 "Half our world is sinking into a development disaster, fuelled by a crushing
debt crisis
. That is the main message of the report we are presenting today: A World of Debt," Guterres said, adding that since most of these unsustainable debts are concentrated in poor countries "they are not judged to pose a systemic risk to the global financial system".
"This is a mirage, 3.3 billion people is more than a systemic risk, it is a systemic failure. Markets may seem not be suffering – yet. But people are," he added.
10 salient points from the report:
Public debt has increased more than fivefold since 2000, jumping from $17 trillion in 200 to $92 trillion in 2022
Almost 30% of global public debt is owed by developing countries
Public debt is growing faster in the developing world
A total of 52 developing countries have public debt exceeding 60% of GDP
Developing countries rely more on private creditors now, making credit more expensive and debt restructuring more complex
Developing countries pay much more for their borrowing. While Germany and US pay 1.5% and 3.1% as interest, respectively; Asia is charged 6.5%, Latin America 7.7, and Africa a whopping 11.6%
Developing countries pay much more for their borrowing
A rising number of countries are using more public revenues for interest payments
Interest payments are growing faster than other public expenditures with some regions, especially in Africa,spending more on servicing debt than serving their people. Interest payments are outweighing development spending in many countries
3.3 billion people live in countries that spend more on interest than health or education
The UN chief said some of the poorest countries in the world are being forced into a choice between "servicing their debt, or serving their people".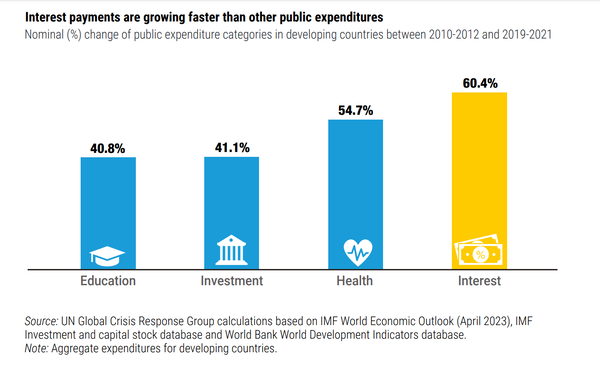 He also noted that a growing share of the debt is held by private creditors "who charge sky-high interest rates from many developing countries".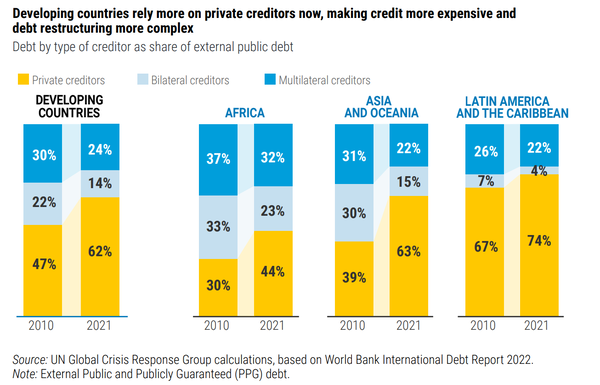 "On average, African countries pay four times more for borrowing than the US and eight times more than the wealthiest European countries," he added.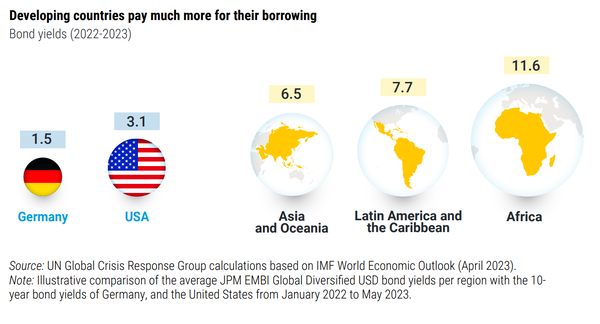 The International Monetary Fund has said that 36 countries are on so-called "debt row" – either in, or at high risk of, debt distress. Another 16 are paying unsustainable interest rates to private creditors. A total of 52 countries – almost 40% of the developing world – are in serious debt trouble.
"It is one result of the inequality built into our outdated global financial system, which reflects the colonial power dynamics of the era when it was created," the UN chief said.
He acknowledged that debt is an important financial tool that can drive development and enable governments to protect and invest in their people, "but when countries are forced to borrow for their economic survival, debt becomes a trap that simply generates more debt".
Roadmap to solve crisis
The United Nations has a road map of multilateral actions to address the
global debt
burden and achieve sustainable development.
The roadmap focuses on three areas of action:
Tackling the high cost of debt and rising risks of debt distress
Massively scaling up affordable long-term financing for development
Expanding contingency financing to countries in need
The implementation of these actions is crucial to unleash the resources needed to build a more prosperous, inclusive, and sustainable world, said Guterres.