Two MLAs return to Sharad Pawar; tit-for-tat firings by NCP camps
MUMBAI: A day after Ajit Pawar was sworn in as deputy CM in the Eknath Shinde-Devendra Fadnavis government and claimed the support of 40 NCP MLAs, two of them – Satara MLA Makrand Patil and North Karad MLA Balasaheb Patil – returned to Sharad Pawar's camp even as the rival party factions announced action against each other's netas and filed cross-petitions before the assembly Speaker seeking disqualification of the other side's legislators.
Shirur MP Amol Kolhe too, who was at Raj Bhavan, said on Monday he was going back to Sharad Pawar's group.
In his first strike against his nephew's group, Pawar Sr sacked MPs Praful Patel and
Sunil Tatkare
from the party.
In a counter-move, Ajit's group replaced Jayant Patil as
NCP
state president with Tatkare. Tatkare's daughter was sworn in on Sunday.
The Sharad Pawar group sent two petitions to the assembly Speaker asking for disqualification of Ajit and the eight other NCP MLAs sworn in with him. In a counter, the Ajit-led cohort asked the Speaker to disqualify Jayant Patil and Jitendra Awhad, who was appointed leader of opposition in the assembly.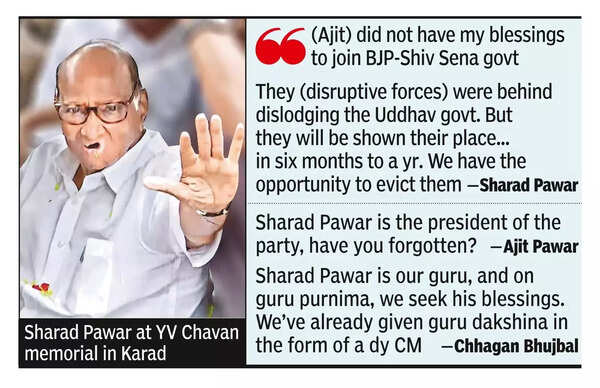 Sharad Pawar fights back, expels Praful Patel and Sunil Tatkare
A day after, as Ajit Pawar looked to tighten his hold over the NCP rank and file, party president Sharad Pawar announced the expulsion of two of his supporters – Rajya Sabha member Praful Patel and Lok Sabha member Sunil
Tatkare
– for engaging in "anti-party activities".
With the Ajit camp insisting that they constitute the NCP and have the required two-third number of MLAs, Pawar and associates including Jayant Patil, Supriya Sule, Jitendra Awhad signalled a fightback by sacking the duo who held top party posts and expelling a bunch of other functionaries heading various units in the party.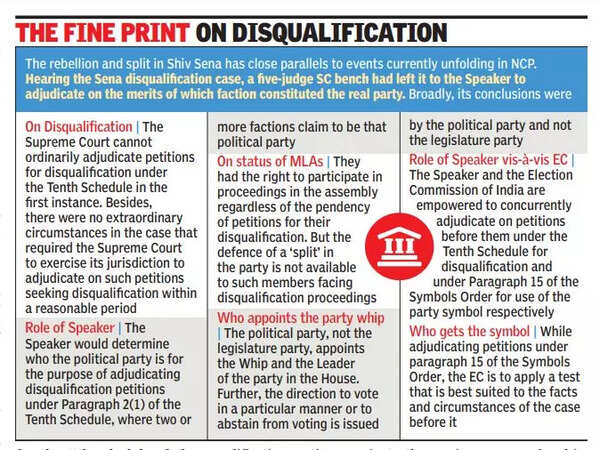 Patel and Tatkare had attended the swearing-in ceremony of Ajit Pawar and have flanked him at press conferences along with Chhagan Bhujbal while he spelt out his reasons for aligning with the Shinde-Fadnavis government. In his first reactions to the rebellion on Sunday, Pawar had singled out Patel and Tatkare for criticism. He said he had appointed them to key party posts but instead of upholding guidelines, they had "abandoned" them. In the recent reshuffle in the NCP, Patel along with Sule was appointed working president and Tatkare was made national general secretary. "Their names have been removed from the register of members of NCP for anti-party activities," Sharad Pawar tweeted.
Proceedings were also being initiated for their disqualification from Parliament under the 10th schedule of the Constitution. This was the major retaliatory move by Pawar after his nephew raised a banner of revolt and joined hands with Eknath Shinde and Devendra Fadnavis on Sunday.
Along with Patel and Tatkare, Mumbai NCP working president Narendra Rane, Akola unit president
Vijay Deshmukh
and NCP general secretary Shivaji Garje have also been sacked for attending the ceremony at Raj Bhavan where Ajit Pawar and eight NCP MLAs took oath. The faction also moved disqualification notices against the MLAs who joined the government. 01:14
Mumbai: NCP supporters smear black ink on posters of Ajit Pawar, other leaders who joined NDA govt
In a counter move, the Ajit Pawar-led group has filed disqualification notices against both Jayant Patil and Jitendra Awhad for anti-party activities. At a press conference, Praful Patel announced that Patil was being "relieved of his responsibility" as state NCP chief and was being replaced by Sunil Tatkare. The latter announced appointments to the party's women and youth wings.
Through the day, both sides put out statements to argue their case. Justifying the action against Patel and Tatkare, Pawar said they had facilitated defections by nine legislators without the knowledge or consent of the party president. He said this amounted to desertion of the party, which in turn invites disqualification from the primary membership. "You are required to acknowledge the same and refrain from misrepresenting before any forum that you have association with the NCP party," Pawar said in an official communication to the duo. 04:12
A major setback for Sharad Pawar: Trusted aide Praful Patel joins Ajit Pawar faction
Earlier in the day, Supriya Sule as working president had sought immediate action against her former colleagues. In a letter to Pawar, Sule said Patel and Tatkare acted in violation of the party constitution and indulged in anti-party activities by facilitating the swearing of oath of nine legislators as cabinet members. "Patel and Tatkare acted in direct contravention of the party constitution and rules, amounting to desertion and disqualification from the party membership," she tweeted. "I request Pawar saheb to take immediate action and file disqualification petitions under 10th schedule of the constitution before competent authority against Patel and Tatkare," she said.
The Sharad Pawar-led faction appears set to expel all its office bearers who attended Ajit Pawar's swearing-in ceremony. Mumbai NCP working president Narendra Rane is among those who has been sacked with immediate effect. "You attended the swearing-in ceremony of Ajit Pawar, your act amounts to breach of party discipline, your action is against party policies, therefore, you are expelled from the party with immediate effect. Stern action will be taken against you if you use the party name and symbol," state NCP president Jayant Patil said in a letter to Rane, who is a trusted aide of Ajit Pawar. 03:40
NCP files disqualification petition against 9 leaders after Ajit Pawar's rebellious move
Identical letters were sent to party general secretary Shivajirao Garje, who was looking after NCP office administration and Akola district president Vijay Deshmukh. "This is the beginning of disciplinary action against erring office bearers. All such office bearers, who attended Sunday's event at Raj Bhavan will be expelled from the party," a senior NCP leader said.
Significantly, another Mumbai NCP working president Rakhi Jadhav, in charge of three districts, has been given responsibility for the entire city. Pawar has appointed Sonia Doohan as in-charge of the NCP headquarters in Delhi. 02:00
Maha: Ajit Pawar meets Fadnavis to discuss allocation of portfolios
Watch Sunil Tatkare appointed as new state President of NCP: Praful Patel