Twin wins: In a first, sensex tops 65k, BSE mcap Rs 300L cr
MUMBAI: Posting their quickest gains, the sensex and investor wealth hit record highs on Monday, riding on foreign fund buying. For the first time, the index breached the 65,000 mark, hopping from the 64,000 level in just one session, even as the value of Indian stocks on the BSE crossed Rs 300 lakh crore in just over two years after topping the Rs 200-lakh-crore milestone.
The sensex recorded an all-time high for the third session in a row on Monday as it rose nearly 1%, or 486 points, to 65,205, led by gains in Reliance, ITC and the HDFC twins. The sensex breached the 65,000-level early in the day on the back of positive cues from US markets.
According to analysts, sustained buying by foreign investors is a key reason for Indian stocks' resurgence in recent months. In the first six months of 2023, foreign institutional investors have net invested Rs 88,256 crore in equities. In 2022, these investors had sold over Rs 1.2 lakh crore worth of stocks.
Since its March 24 low of 57,527, the sensex has surged over 13%. On a year-to-date basis, the sensex has gained around 7% as against S&'s 16% surge and Dow's 4% rise.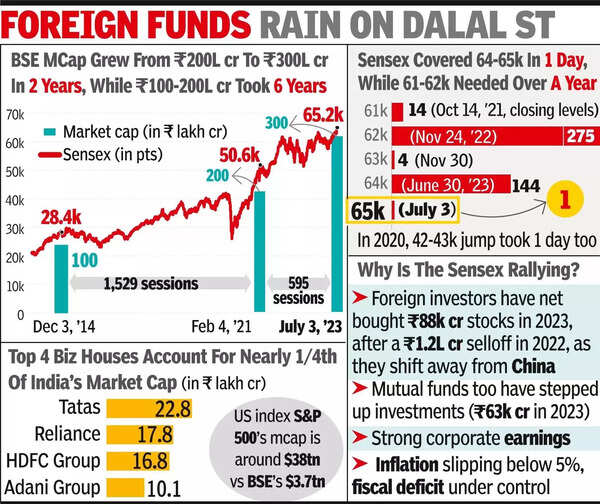 Steady corporate earnings, stable rupee support rally
Investor wealth, which is derived from BSE's market cap, grew by nearly Rs 2 lakh crore on Monday to settle at Rs 301 lakh crore. This translates to around $3.7 trillion – ranking India 5th in terms of market valuation between Hong Kong ($5.1 trillion) and France ($3.3 trillion).
Steady corporate earnings and robust macroeconomic fundamentals have supported the rally, analysts said, apart from global factors. A stable rupee, which rose 8 paise to close at 81.96 against the dollar on Monday, along with moderating inflation too have positively impacted the markets.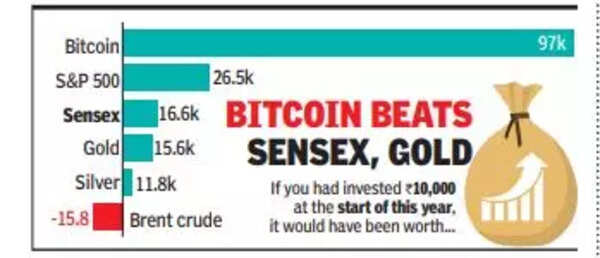 "Global markets, which had expected a US recession by mid-2023, have been proved wrong and are now compensating for the excessive pessimistic discounting in 2022. The US rally is being led by a handful of tech stocks while it is more broad-based in India," V K Vijayakumar of Geojit Financial Services said. He attributed the surge in foreign fund inflows to the "sell China, buy India" strategy which is evolving in the US.
On a year-to-date basis, investor wealth has gained by Rs 15 lakh crore. The rise in BSE market cap has come despite a nearly Rs 10-lakh-crore drop in Adani stocks' valuation over the same period in the wake of a critical report by US short-seller Hindenburg. In addition to a flood of foreign funds, the monsoon covering most parts of the country last week too lifted investor sentiments. "India is performing well on most economic parameters and that could strengthen the fund flows in the near term," Shrikant Chouhan of Kotak Securities said.
Market players said that though the rally may continue for a short while, valuations in some sectors have started getting stretched. When the BSE market cap crossed Rs 200 lakh crore in February 2021, the sensex's price-to-earnings (PE) ratio, an indicator of valuation, was near 35. The sensex's current PE ratio is at 24, according to the BSE website, , which is close to its 2017-20 average.
Due to robust profit growth potential and increased demand from domestic and global investors, Indian shares remain appealing despite high relative valuations. The premium over the historical average implies increased optimism about medium-term growth, Shantanu Bhargava, MD, head of discretionary investment services,
Waterfield Advisors
, said.