Some event applauds the empowerment of women through clothing and jewellery. We get to profit from the tireless trailblazing endeavours of designers and artisans for women who lead to radiate, This event collaborated the most beautifully curated wedding line with traditional jewellery, especially honours today's favourably refined and enigmatic spirit of women.
To celebrate their feminism and authentic demure through age-old traditional techniques getting seized with a modern twist. Tarun Tahiliani is known for his creative genius and intricate craftsmanship for women who are ingenious, witty and wonderful in their skin. His creations transmit the ancient allure of drapes into modern society's contemporary silhouettes which have sweetened the beauty of assured women for decades and more. For this latest partnership with Tanishq, TT said "We've done jewel-like embroidery for years so it was a match made in heaven for me to collaborate with Rivaah by
Tanishq
— a name synonymous with incredible craftsmanship, unwavering trust, and reach across the country. In addition, they have the most dedicated set-up of various karigar centres having the expertise of numerous and unique karigari techniques that we could access to design this stunning collection. My brand has always been about India-modern, our collaboration is a perfect match of two brands that have always celebrated Indian heritage and culture with a modern contemporary twist in our crafts. My brand has stood for lightweights, fun and exuberance, which this campaign is about, the free-spirited bride beautifully encapsulates." The collection carried traditional embroidery techniques and empowered the jewels with similar craftsmanship which complimented each other like never before. Together, it serves the bossy but not pejorative yet more passionate woman who loves to engage in leading ambitiously and being mischievous.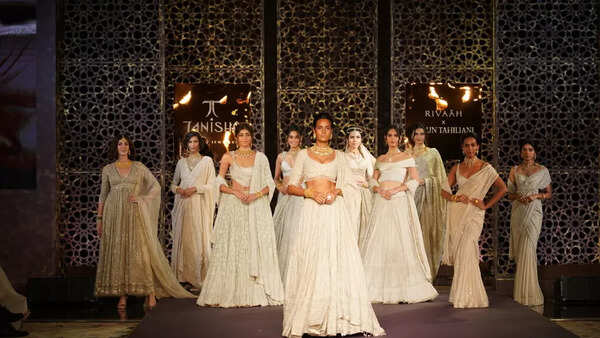 The amalgamation of timeless techniques
Rivaah X TT promises to marry age-old traditions with youthful sensibilities. Drawing inspiration from TT's signature embroidery such as Chikankari, Kashida, Zardosi and Crystal embellishments, the collection is poised to redefine bridal elegance. Each piece is an embodiment of the bride's individuality, capturing the essence of Tahilini's rich archives of iconic embroideries and patterns with Tanishq's timeless jewellery karigari. In the Rivaah x Tarun Tahiliani, craftsmanship is combined with delicate Indian embroideries Whether it's Chikankari from Lucknow or Kashida from Kashmir, The ornate collection is a perfect splendour for Indian Weddings. The unique collaboration contemplates the spirit of the modern Indian bride. Aiming to cater to her desire for both comfort and style, the collection offers a versatile range suitable for various wedding occasions – from the grand ceremony to intimate gatherings. The collection features unique designs where opulence merges with extravagance creating a stunning array of ethano-contemporary jewellery that resonates with culture and tradition while addressing the co-occurring preferences of today's brides. It's meticulously designed with intricate and unique karigari techniques like Rawa, Filgree, Chandak and enamel work along with coloured stones piroi for brides who seek exclusivity and uniqueness in their wedding ensembles. The delicate patterns and effortless artistry highlight the rich origin of these Karigari techniques, quotes the chief design officer Ms. Revathi Kant.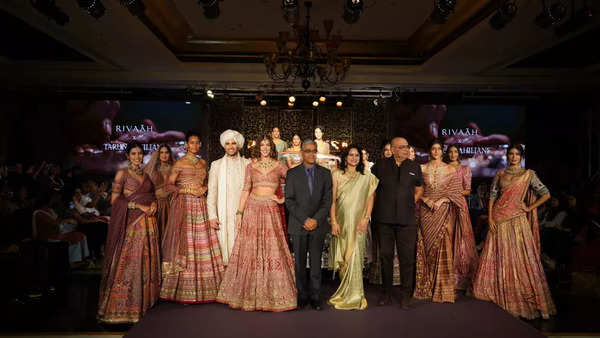 Speaking on the launch of 'Rivaah x Tarun Tahiliani, Mr Ajoy Chawla, CEO Jewellery Division at Titan Company Limited said, "Rivaah x Tarun Tahiliani is a tale of collaboration rooted in shared design values and core principles, a synergy that empowers the modern Indian bride. It intertwines timeless traditions and exquisite craftsmanship, weaving a harmonious tapestry of handcrafted artistry and stylish allure. This collection gracefully captures the essence of age-old traditions while embracing the evolving tastes of the new-age brides."
It's refreshing to see elegance having fun by going out and grabbing the wedding by the lapels. The only requirement of having freedom is believing in it. This collaboration does not only have the perfect attire but the mindset to change the narratives and stereotypes.