NEW DELHI: The Supreme Court on Monday stayed a Karnataka High Court order that had quashed a Rs 21,000 crore GST demand notice on gaming platform Gameskraft Technologies, which provided a virtual floor for Rummy players, and said it would determine whether online gaming involved only skill or chance, or was it akin to 'betting and gambling'.
Appearing for the Directorate General of Goods and Services Tax Intelligence (DGGSTI), Additional Solicitor General
N Venkataraman
told a bench of Chief Justice D Y Chandrachud and Justices J B Pardiwala and Manoj Misra that the HC completely misdirected itself in understanding the GST Rules and "erroneously made unwarranted damning remarks" against officials for slapping the Rs 21,000 crore demand notice on
Gamkeskraft
. This led to protests from senior advocates
Rakesh Dwivedi
, Mukul Rohatgi and A M Singhvi, who said that a stay would mean giving final relief to authorities and pleaded that the issue could be decided by putting the DGGSTI's appeal against the Karnataka HC single judge bench's order for final hearing.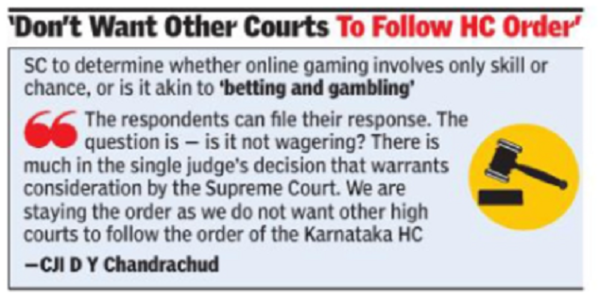 The CJI said, "The respondents can file their response. The question is – is it not wagering? There is much in the single judge's decision that warrants consideration by the Supreme Court. We are staying the order as we do not want other high courts to follow the order of the Karnataka HC." The HC had held that online Rummy was not akin to betting or gambling.
When the counsel for gaming platforms requested the court to restrain DGGSTI from proceeding further with the notices and resorting to recovery of the dues,
Venkatraman
said that is the whole agenda. The SC said nothing is going to happen in two weeks and asked the online gaming platforms to file their responses within the time-frame.
Dwivedi said the online gaming platforms charge a minimal platform usage fee from the players. As an example, he said, if a person puts Rs 100 as a stake for a game of Rummy, the platform only gets Rs 10. How would it pay Rs 28 as GST for every Rs 100 staked by players, he asked, while maintaining that it was a game of skill or chance.
Venkatraman said the SC had earlier ruled in a case of lottery that the entire amount collected was liable for taxation and disallowed deduction of the prize money given to the winners. After the SC order was passed, Gameskraft general counsel Joyjyoti Misra said, "We, along with the skilled gaming industry associations, have full faith in the judiciary and are confident that the SC will reaffirm the settled law of over five decades once again and vindicate our and the industry's position."