Sensex hits fresh high four days in row
MUMBAI: The sensex's winning run continued on Tuesday as it closed at a record high for the fourth session in a row. Led by financial stocks, the sensex rose 274 points, or 0.4%, to 65,479 on Tuesday. In the last four sessions, the sensex has surged by over 2,000 points, or 3%.
The sensex logged a lifetime high of 65,673 intraday before closing marginally lower due to profit-booking.
Bajaj Finance
and
Bajaj Finserv
stocks surged 7% and 6%, respectively, on the back of strong earnings – these two stocks were also the top contributors to the sensex's rise on Tuesday.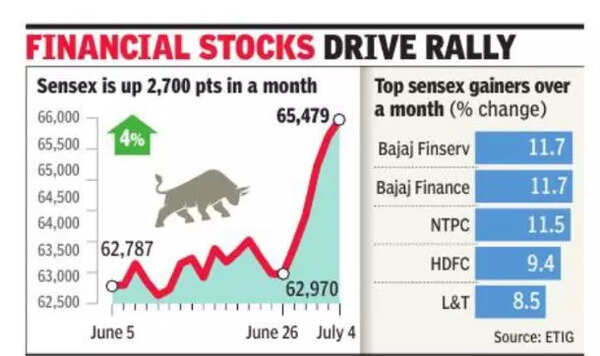 On Monday, the sensex had crossed the 65,000-mark for the first time. Investor wealth, as represented by BSE market cap, too had crossed the Rs 300-lakh-crore milestone on Monday. The market cap rose to a record Rs 301.2 lakh crore on Tuesday.
The rally in Indian stocks continues to be driven by foreign fund inflows, analysts said. "The market is maintaining its optimism. However, a profit-booking tendency is visible… The momentum of the market has shifted from the front-lines of this year to laggards like IT, commodities, and PSBs,"
Vinod Nair of
Geojit Financial Services said.
According to analysts, investors should remain cautious and avoid aggressive bets. On the other hand, long-term mutual fund investors should avoid trimming SIP amount just because indices are hitting lifetime highs. On a year-to-date basis, the sensex is up 7%, while S& has risen over 16%.