Russian oil: Trade headaches for India as crude prices hit $60
NEW DELHI: A top buyer of
Russian oil
is bracing for trading trouble as the price of Urals, the country's main export grade, breaks through a $60-a-barrel cap set by Western nations to curb Moscow's revenue.
India and China have been the two dominant buyers of Russian crude since the invasion of Ukraine more than a year ago prompted others to shun the OPEC+ producer. As Urals climbs above the limit set by the Group of Seven, however, importers will face greater scrutiny on their purchases.
Officials from three Indian refiners said they are preparing for tougher talks with local banks involved in the financing of their Russian oil cargoes, including a lot more requests for evidence verifying the purchase price. The officials spoke on condition of anonymity as they're not authorized to comment publicly.
The price cap was designed to keep Russia oil flowing and prevent a global supply shock, while crimping the Kremlin's revenue and its ability to fund the war in Ukraine. Importers are unable to use Western services such as insurance and shipping if crude is purchased above the $60-a-barrel limit. That's led to the emergence of a large fleet of shadow tankers to bypass sanctions.
Asian buyers regularly use this flotilla to import crude from Russian and other nations such as Iran. Officials from two Chinese refiners said their purchases of Russian oil over recent months have mostly been executed without the use of Western financial, insurance and shipping services.
Different currencies
According to price reporting agency Argus Media, Urals topped $60 a barrel on Wednesday at its port of load on a free-on-board basis. For Asian buyers, there is still some consolation. While these assessments are widely referenced by oil traders across the world, they provide a good gauge but do not exactly predict purchase prices paid by buyers.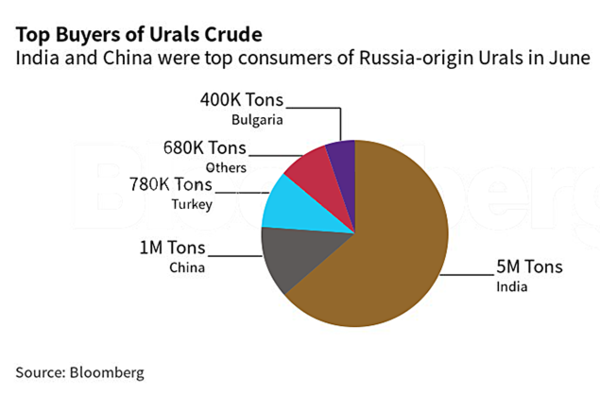 Most Russian cargoes bought by Asian refiners are on a delivered basis, which takes into account the price of crude at the loading port plus shipping and other miscellaneous costs and not on an FOB basis, which is used for the price cap. This delivered price is comprised of a formula that typically includes a privately-negotiated discount to the month-average of global benchmarks such as Brent or Dubai oil during the month of loading — which leave some room for maneuver when it comes to valuing the net-back cost of cargoes.
One Indian official said his refinery's purchases of Urals for loading in July could now be priced above the cap — depending on how Brent and other benchmarks perform for the remainder of this month. He said the company may need to consider the use of different currencies.
Indian refiners have tested the use of other currencies such as dirhams, rubles and rupees for Russian crude cargoes. More recently, Russian sellers of crude to India have been increasingly interested in using yuan.
Disruptions to Russian crude flows to India could ripple across global oil markets, coinciding with reduced supply from Moscow and Riyadh and an expected tightening of the market. The South Asian nation currently imports almost half of its oil from Russia, with Urals making up the bulk of the barrels. Indian refiners may need to seek more cargoes from West Africa, Abu Dhabi, Saudi Arabia or Iraq, should it see a major impact to its imports.
Not all Russian oil deals in Asia will be altered as Urals is pushed higher. A huge chunk of Russia's seaborne flows to China is comprised of ESPO Blend, a higher-quality grade typically priced above the $60 a barrel cap. Due to its consistently-high price, exports of the grade from ports in eastern Russia already rely on the shadow fleet and insurers willing to handle such trades.
Indian and Chinese refiners cautioned the final price for most Russian cargoes loading in July, for example, will only be known at the end of the month, leaving many to wait and see. One Indian official said buyers will focus on negotiating bigger discounts in order to reduce and bring the final FOB cost under $60 a barrel, should Brent or Dubai rise. The benchmarks make up the biggest pricing component.