MUMBAI: The rupee closed at a record low of 83.27 against the dollar, down nine paise from Friday. The previous all-time closing low was 83.21, recorded on September 7. The rupee weakening despite
RBI
selling dollars in the forex market is causing analysts to review their forecasts.
"The dollar-rupee pair closed after breaching crucial resistance levels of 83.1. The currency pair had been range-bound for almost a year. The markets will keenly watch the weekly close for further clues. If the rupee depreciates further during the week, there is all likelihood of the pair breaching the next resistance level of 83.7 and move towards 84," said Hariprasad M P of Ebixcash World Money.
Besides adding to general inflation, a weaker rupee makes international travel and education more expensive.
"With the US yields rising and oil prices moving higher, we could see more pressure on the rupee ahead of the Fed statement on Wednesday. We expect a range of 82.8-83.5 in the spot market," said Anindya Banerjee of Kotak Securities. The US Fed will announce its decision on hiking interest rates after its two-day meeting ends on Wednesday.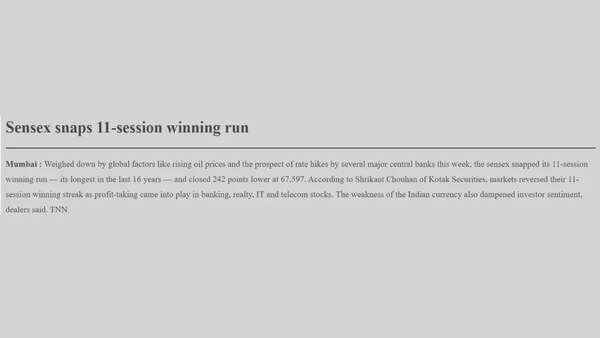 Dealers said the key concern was oil prices inching toward the $95 level in international markets. Also, the dollar has been strengthening against other currencies on expectations that interest rates in the US will rise.
"The optimism on the current account deficit (CAD) and the balance of payments have started to decline, particularly after the unexpected rise in crude oil prices since August 23. Going ahead, merchandise trade deficits are likely to remain elevated and will lead to higher CAD in Q2 and Q3 unless there is a strong growth in services exports," said Suman Chowdhury, chief economist, Acuite Ratings.
Chowdhury added that although India remains one of the fastest-growing countries in the world in the current fiscal, higher interest rates for a longer period in the US and other developed economies may not allow any significant pick-up in capital flows.
RBI has recently been a net seller of dollars as the greenback gained against emerging market currencies. According to RBI data released on Monday, it made net purchases of $3.5 billion in the spot foreign exchange market in July. Against purchases of $5.3 billion, it sold $1.8 billion in July. RBI had also bought a net of $4.5 billion in the spot market in June.