Rain toll in North rises to 91, floods worsen in Punjab, UP
NEW DELHI: Uttarakhand was swamped Tuesday by the twin storms of monsoon and western disturbance that caused heavy rain and widespread destruction as falling boulders and landslides killed eight people, including three Gangotri pilgrims from Madhya Pradesh, in the state. Elsewhere in the rain-battered north, the weather delivered a small measure of relief to Himachal Pradesh, J&K, Punjab, Haryana and Rajasthan, allowing authorities to step up relief, rescue and road restoration efforts.
On Tuesday, 21 more deaths were reported due to rain-related accidents, landslides and floods, taking the death count in the region to 91 since July 8. Fresh areas were inundated in flood-hit Punjab while an alert was sounded in Fazilka after water was released in Sutlej river. In UP, Agra and Prayagraj were among places on flood alert with a further rise in Yamuna and Ganga.
Rocks and debris rolled down the mountainside and crushed a minibus on the highway at Gangnani in Uttarkashi district, killing three pilgrims from MP's Dewas and their driver from Haryana when they were returning from the Gangotri shrine Monday night. Three other passengers were critically injured and shifted to AIIMS, Rishikesh.
A man on a bike was killed in Rudraprayag in a similar accident. In Kalsi, on the outskirts of Dehradun, a big boulder crashed on a utility vehicle on Koti road, killing three people instantly. 02:18
Watch: Road caves in on Jammu-Srinagar highway amid heavy rains
Heavy rain lashed Uttarakhand between Monday night and Tuesday morning. "The spell will continue, particularly in the Kumaon region, over the next 24 hours," said Bikram Singh, director of the Met office in Dehradun.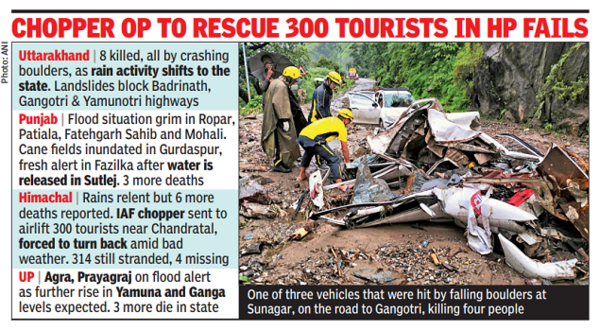 In Himachal Pradesh, the hardest-hit state, officials reported six more fatalities Tuesday. An IAF helicopter was requisitioned to airlift around 300 people, mostly tourists, stuck in camps near Chandertal lake, located at an altitude of 14,100 feet in Lahaul and Spiti district. But the copter had to return due to bad weather. A rescue team from Kaza has reached Kunzum Top and is just 8km away from the lake, officials said.
The rain has stopped since Monday evening and the rescue and road restoration work have gained pace. However, the meteorological department warned of the possibility of moderate to high flash floods in Shimla, Sirmaur and Kinnaur districts. 04:40
Mandi, Himachal Pradesh: Flood situation in parts of the city due to heavy rain
In J&K, DGP Dilbagh Singh said the landslide-hit Jammu-Srinagar national highway was restored for traffic after five days. Vehicles stuck on the highway with 5,500 pilgrims to the Amarnath cave shrine were allowed to proceed towards Srinagar.
The weather cleared in the plains too, but Punjab's flood situation continued to be grim — two more fatalities were reported, numerous houses and acres of cropland remained submerged, water supply was disrupted, and power still out. 03:00
NDRF constantly conducting rescue operations as rain batters north India
Rescuers pulled out the bodies of two men from a car that was washed by floodwaters near Chandigarh late Saturday and found Tuesday in a swift-flowing stream near Mohali. Police said a third man in the car, identified as a resident of Una in Himachal Pradesh, is missing.
In neighbouring Haryana, a man and a woman drowned in floods in separate places of Ambala district Tuesday. Several key highways, including the Ambala-Ludhiana national highway, have been temporarily closed for traffic due to flooding. Water from the Yamuna has inundated 47 villages in Karnal, prompting authorities to call in the Army.
Uttar Pradesh reported three deaths Tuesday — two from lightning strikes in Sitapur and Mainpuri, while a 42-year-old man died in Gautam Buddh Nagar district when his house collapsed in the rain. A flood alert has been issued in Agra and Mathura districts as Haryana released more than 3 lakh cusecs of water into the Yamuna from the Tajewala barrage in the past 48 hours.
The rain let up in most of Rajasthan after five days, though Sheoganj in Sirohi district was dunked by 130mm of precipitation, the highest in the state Tuesday. "Rajasthan received 254mm of rainfall till Tuesday, which is 112% higher than the 119mm received till July 11 last year," said an officer with the water resources department. The rain caused extensive flooding but also brought relief to farmers of the desert state.
Watch Video: Tragic landslide on Gangotri National Highway in Uttarakhand claims 4 lives amid heavy rainfall