Over to the special session of Parliament…
TIMESOFINDIA.COM / Sep 18, 2023, 09:01 IST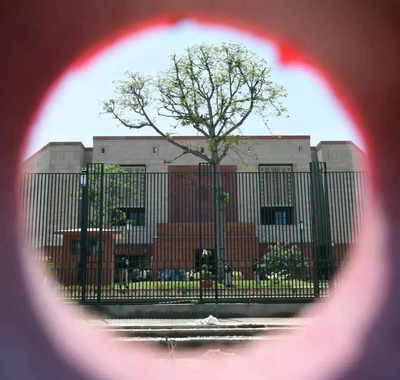 What's special about it
A special five-day session of Parliament called by the government during 'Amrit Kaal' is set to begin today.
This comes amid an intense speculation about the government's agenda for the rare move. The proceedings, at least in part, are likely to be held in the new Parliament building that PM Modi inaugurated in May this year.
The new building
A day before the special session Vice President and Rajya Sabha Chairman Jagdeep Dhankhar on Sunday hoisted the national flag atop the "Gaja Dwar" of the new Parliament building.
For the new Parliament building, this will be the first session.
A new dress code has been announced for the parliamentary staff of various departments. The new dress code with floral motif for a section of staff has already kicked up a political row, with the Congress dubbing it as a "cheap" tactic to promote the ruling party's poll symbol — the lotus flower.
Old vs new building
Designed by British architects Sir Edwin Lutyens and Herbert Baker, the existing historic Parliament House Complex has stood for over 96 years and is a repository of India's democratic journey.
The new building has been designed by Ahmedabad-based HCP Design, Planning and Management led by architect Bimal Patel.
Poised for a stormy session
All the political parties with a presence in Parliament have issued a whip to their Parliamentarians, directing them to ensure their presence during the special session.
The government has listed some bills and marking the 75 years of India's Independence as its agenda for the special session.
But the Opposition has not seemed satisfied, indicating that the special session, possibly in the new building, may follow the old suit of shouting, sloganeering and ruckus over the government's "hidden agenda".
What we know
A special discussion on Parliament's journey of 75 years starting from the "'Samvidhan Sabha" (Constituent Assembly) is listed on the agenda.
Four bills including the appointment of the Chief Election Commissioner and other election commissioners to be taken up during the session.
And a custom
The customary all-party meeting was called by the government on Sunday on the eve of the special session of Parliament. Floor leaders of all parties attended the meeting.
Several parties made a pitch for the passage of the Women's Reservation Bill, giving 33% quota to women candidates in elections.
The government has responded by saying that an appropriate decision on the women's quota bill would be taken at the right time.
FOLLOW US ON SOCIAL MEDIA
Visual Stories