Aditi Swami won a gold medal at the World Archery Championship this year, making her youngest-ever world champion in the sport. The TOI #Unstoppable21 jury has picked the teenager from Maharashtra as one of the Unstoppable 21 Indians under 21 years
At age 10, Aditi Swami accompanied her father to a multisport event at Shahu Stadium in Satara, Maharashtra. It was during that event that she first witnessed the bow being used to shoot arrows, igniting an immediate interest in the sport.
They met coach
Pravin Sawant
, who runs
Drushti Archery Academy
in Satara. "Since Aditi was slender, Sawant sir proposed a 15-day fitness test before admitting her to the academy. Observing Aditi's concentration level, Sawant sir granted her admission," recalls her father
Gopichand Swami
, a teacher at a taluka school.
Their native village, Sherewadi, which has a population of around 600 people, is nearly 15 km away from Satara. To help Aditi pursue her dream of becoming an archer, her father took a loan on his salary account and her family relocated to Satara.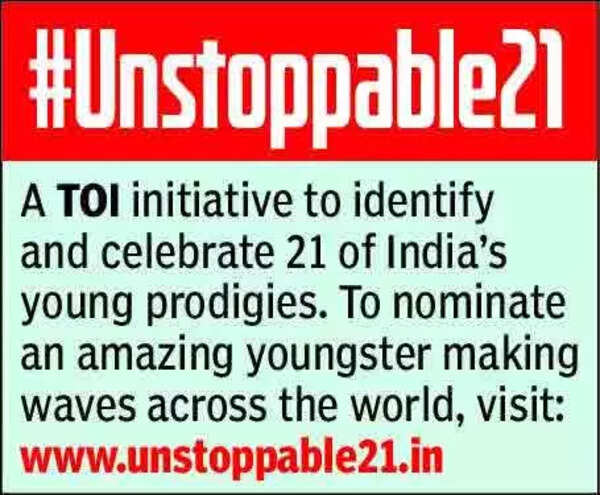 #Unstoppable21
A TOI initiative to identify and celebrate 21 of India's young prodigies. To know more about the young prodigies of India under 21, visit: https://timesofabetterindia.com/unstoppable21
Born in Mahabaleshwar, the 17-year-old archer has been living in a small tinshed house in Satara with her family since 2016. Her mother,
Shaila Swami
, is a gramsevak at Ambawade village, 12 km away from home. She would pack two meals for Aditi and leave for work. Her father would drop her off either at school or the academy, depending on the practice session, and pick her up after finishing his work.
Aditi
would train for nearly three to four hours on weekdays and over five hours on weekends. Soon enough, Gopichand noticed that she was dedicating more and more of her time to Drushti Academy.
For one and a half years, Aditi practised with the Indian bow before making the switch to the compound discipline. Her coach and father would show her videos of medal-winning Indian archers. In one such video, the sound of the Indian national anthem made her determined to succeed on the international platform and make her country proud.
Within a year, she won the district medal and qualified to represent Maharashtra in an inter-school tournament in 2017. In her national debut in 2018, Aditi won a silver medal.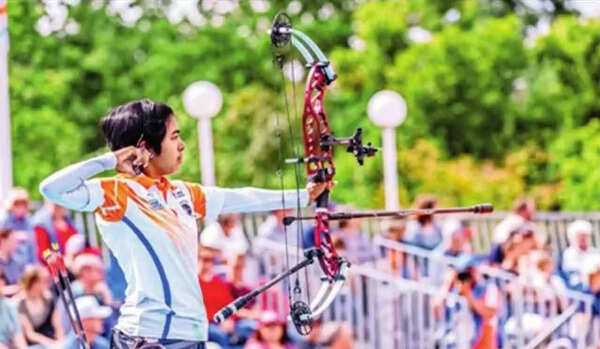 According to her father, Aditi has not missed even a single practice session. During the Covid-induced lockdown, she used to practise outside her home.
Practising alone, she feels, helped her improve her skills and enhance her focus. After the tournaments resumed, Aditi started getting the desired results and brought home her first national individual gold during the sub-junior event in Amravati in 2021. In the same year, she qualified for the senior nationals and won the team a silver medal in Jammu and Kashmir.
In March 2022, during her international debut at the Asia Cup leg 1 in Phuket, she ended up shooting low in the individual event but helped the team win the silver medal.
In May and December 2022, in Iraq and Sharjah respectively, Aditi was in the Indian team that won gold medals. Her first individual medal was a silver in Sharjah. She lost the finals to compatriot Pragati 142-144. Since then, she has been part of various Indian teams and has won many medals.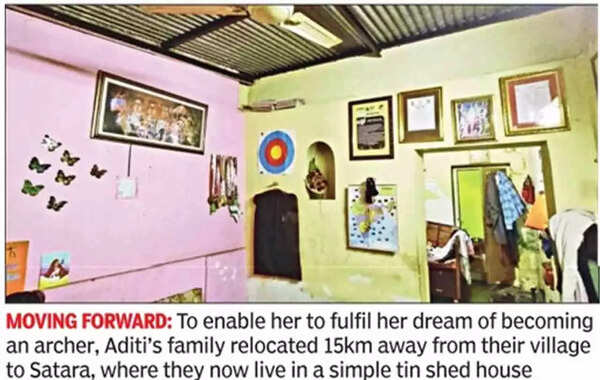 Aditi's dream of winning an individual gold came true during the World Championship in Berlin. She became the youngest in the sport in any event to become a world champion.
During Aditi's rise to fame, her father tirelessly worked to secure funds for her tournament travels and equipment, accumulating substantial debt without a single complaint. "I had to take out many loans, and more than half of my salary goes towards repaying them. So far, I've borrowed over Rs 12 lakh," he reveals.
"For the past three to four months, Aditi has been getting Rs 10,000 per month as a scholarship from Khelo India. After she became world champion, Indian Oil also started giving Rs 20,000 a month as a scholarship."
Aditi's gold medal during the 2022 National Games in Gujarat fetched her Rs 7 lakh and Gopichand was able to pay off a major part of his debt.

The Swami family lacks space to display Aditi's medals, and their humble tinshed home has seen a constant stream of visitors since her global triumph. "After becoming a world champion, Aditi feels a bit uncomfortable when guests visit home. While she has won all these medals, there's no prize money accompanying them…Aditi dreams of using her earnings to build a house, and her immediate goal is to excel in the Asian Games," Gopichand shares.
In her seven-year career, Aditi has received a cash prize only for the gold medal at the National Games.
The 2024 Paris Olympics will have only the recurve event, while the compound event will be held at Los Angeles in 2028, so the world's youngest archery champion has to wait five years for her Olympic bid.