NEW DELHI: The first sitting of Lok Sabha in the new Parliament House on Tuesday saw Congress leader Adhir Ranjan Chowdhury trying to claim credit for the women's reservation bill but home minister Amit
Shah
immediately dismissed his claim, saying the legislation brought by the Manmohan Singh government had lapsed following dissolution of the 15th Lok Sabha.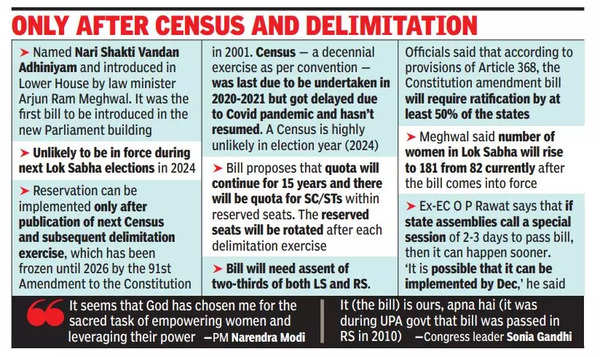 Chowdhury's remarks that Rajiv Gandhi had brought women's quota to local body polls in 1989 and Congress had persistently made efforts for women's reservation bill irked the treasury benches.
He said governments under Rajiv Gandhi, PV Narasimha Rao and Manmohan Singh tried to pass the bill to reserve one-third seats for women candidates. He added that the bill could not be passed by both Houses.
The home minister said Chowdhury had made two factually incorrect statements and he should provide documents to validate his claims or withdraw his statement. He said the women's reservation bill was never passed by Lok Sabha and the old bill was not pending in the lower House as it had lapsed with the dissolution of the 15th Lok Sabha. Shah also asked Lok Sabha Speaker Om Birla to remove the statement from the record if Chowdhury was unable to provide supporting documents.
Women Reservation Bill: What women think about 'Nari Shakti Vandan Adhiniyam' Bill? Revolutionary or Jumla?
Watch Faceoff over Women's Quota Bill: As Adhir Ranjan claims UPA's bill still active, Amit Shah says 'show documents'