NEW YORK: Novak Djokovic won his 24th Grand Slam title by beating Daniil Medvedev 6-3, 7-6 (5), 6-3 in the
US Open
final on Sunday.
That added to Djokovic's record for the most major singles
tennis
championships won by a man — Rafael Nadal is next with 22; Roger Federer, who announced his retirement last year, has 20 — and broke a tie with Serena Williams for the most in the Open era, which began in 1968.
Like Djokovic, Margaret Court won a total of 24, but some of hers were earned during the sport's amateur era.
Here is a look at each of Djokovic's major championships so far — 10 at the
Australian Open
, seven at
Wimbledon
, four at the U.S. Open and three at the
French Open
— starting with the first:
No. 1: 2008 Australian Open Final: Beat Jo-Wilfried Tsonga 4-6, 6-4, 6-3, 7-6 (2)
What He Did: Eliminated Roger Federer in the semifinals, then didn't face a break point in the second or third sets against Tsonga, before saving one in the fourth.
What He Said: "I'm very, very happy that I won my first Grand Slam here, so hopefully we'll see you here on this stage a lot more often."
————
No. 2: 2011 Australian Open Final: Beat Andy Murray 6-4, 6-2, 6-3
What He Did: Broke to end the first set with the help of a 38-stroke point exchange. Before the tournament, his rivals' Grand Slam counts looked like this: Federer with 16, Nadal with nine.
What He Said: "I don't want to fly up to the sky and say, I am the best,' or whatever. I cannot compare to Rafa and Roger's success."
No. 3: 2011 Wimbledon Final: Beat Nadal 6-4, 6-1, 1-6, 6-3
What He Did: Became the first player other than Federer to defeat Nadal in a Slam final, and replaced Nadal at No. 1 in the rankings.
What He Said: "This is what I'm made for: I want to win. I'm a professional. I want to win more majors, more titles. Obviously, the U.S. Open is the next big thing."
————
No. 4: 2011 U.S. Open Final: Beat Nadal 6-2, 6-4, 6-7 (7), 6-1
What He Did: Overcame a two-set deficit, then two match points, to eliminate Federer in the semifinals, then defeated Nadal across 4 hours, 10 minutes in the final. That made
Djokovic
10-1 against those two opponents that season.
What He Said: "There is a lot more to prove, a lot more tournaments to win."
————
No. 5: 2012 Australian Open Final: Beat Nadal 5-7, 6-4, 6-2, 6-7 (5), 7-5
What He Did: Came out on top in a 5-hour, 53-minute marathon that was so exhausting, both men were given chairs to sit in during the trophy ceremony.
What He Said: "I tried mentally to hang in there, to hold my composure, to hold my emotions."
————
No. 6: 2013 Australian Open Final: Beat Murray 6-7 (2), 7-6 (3), 6-3, 6-2
What He Did: Became the first man with three consecutive Australian Open titles in the Open era.
What He Said: "I have no reason not to be confident in myself."
————
No. 7: 2014 Wimbledon Final: Beat Federer 6-7 (7), 6-4, 7-6 (4), 5-7, 6-4
What He Did: Denied Federer what would have been a record eighth championship at the All England Club.
What He Said: "I managed to not just win against my opponent, but win against myself, as well, and find that inner strength."
No. 8: 2015 Australian Open Final: Beat Murray 7-6 (5), 6-7 (4), 6-3, 6-0
What He Did: Rebounded from a quarterfinal exit the year before in Melbourne Park.
What He Said: "It was a cat-and-mouse fight. It always is with us."
————
No. 9: 2015 Wimbledon Final: Beat Federer 7-6 (1), 6-7 (10), 6-4, 6-3
What He Did: Managed four breaks against Federer, who had won 89 of 90 service games in the tournament entering the final.
What He Said: "There is always something I can work on, and I know I can get my game to a higher level."
————
No. 10: 2015 U.S. Open Final: Beat Federer 6-4, 5-7, 6-4, 6-4
What He Did: Saved 19 of 23 break points.
What He Said: "We pushed each other to the limit, as we always do."
————
No. 11: 2016 Australian Open Final: Beat Murray 6-1, 7-5, 7-6 (3)
What He Did: Equaled Rod Laver and Bjorn Borg for fifth on the men's Grand Slam title list.
What He Said: "I never experienced this much crowd and this much love."
No. 12: 2016 French Open Final: Beat Murray 3-6, 6-1, 6-2, 6-4
What He Did: Complete a career Grand Slam and became the first man since Laver in 1969 to win four consecutive major titles.
What He Said: "It's really a very special moment. Perhaps the greatest moment of my career."
————
No. 13: 2018 Wimbledon Final: Beat Kevin Anderson 6-2, 6-2, 7-6 (3)
What He Did: Won his first major championship since surgery on his right elbow.
What He Said: "It was a long journey. I couldn't pick a better place, to be honest, in the tennis world to peak and to make a comeback."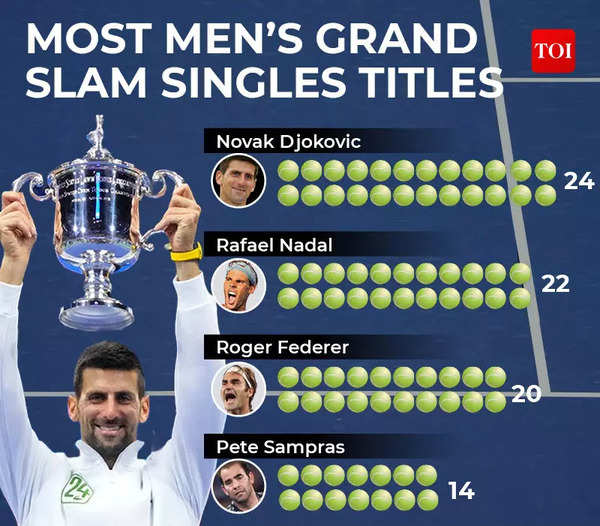 No. 14: 2018 U.S. Open Final: Beat Juan Martin Del Potro 6-3, 7-6 (4), 6-3
What He Did: Pulled even with his idol, Pete Sampras, at 14 major titles.
What He Said: "Maybe 10 years ago, I would say I'm not so happy to be part of this era with Nadal and Federer. Actually, today I am. I really am. I feel like these guys … have made me the player I am."
—————
No. 15: 2019 Australian Open Final: Beat Nadal 6-3, 6-2, 6-3
What He Did: Thoroughly dominated Nadal, compiling 34 winners and making just nine unforced errors.
What He Said: "Under the circumstances, it was truly a perfect match."
———–
No. 16: 2019 Wimbledon Final: Beat Federer 7-6 (5), 1-6, 7-6 (4), 4-6, 13-12 (3)
What He Did: Saved two championship points at 8-7 in the fifth set, then won the first Wimbledon final to go to a fifth-set tiebreaker.
What He Said: "Unfortunately in these kinds of matches, one of the players has to lose. It's quite unreal."
No. 17: 2020 Australian Open Final: Beat Dominic Thiem 6-4, 4-6, 2-6, 6-3, 6-4
What He Did: Dizzy from dehydration, used serve-and-volley to erase a pair of break points, one in the fourth set and another in the fifth.
What He Said: "I was on the brink of losing the match."
———–
No. 18: 2021 Australian Open Final: Beat Daniil Medvedev 7-5, 6-2, 6-2
What He Did: Tore an abdominal muscle in the third round, dropped five sets on the way to the final — his most en route to a Slam title match — and then ended Medvedev's 20-match winning streak.
What He Said: "Most of my attention and my energy from this day forward, until I retire from tennis, is going to be directed (at) majors, trying to win more major trophies."
No. 19: 2021 French Open Final: Beat Stefanos Tsitsipas 6-7 (6), 2-6, 6-3, 6-2, 6-4
What He Did: Eliminated Nadal in the semifinals — becoming the only man to defeat Nadal twice at Roland Garros — then erased a two-set deficit in the final.
What He Said: "I've achieved some things that a lot of people thought it would be not possible for me to achieve."
————
No. 20: 2021 Wimbledon Final: Beat Matteo Berrettini 6-7 (4), 6-4, 6-4, 6-3
What He Did: Pulled even with Federer and Nadal with 20 major titles.
What He Said: "I consider myself best, and I believe that I am the best, otherwise I wouldn't be talking confidently about winning Slams and making history. But whether I'm the greatest of all time or not, I leave that debate to other people."
———–
No. 21: 2022 Wimbledon Final: Beat Nick Kyrgios 4-6, 6-3, 6-4, 7-6 (3)
What He Did: Over the last two sets, accumulated 31 winners, made only eight unforced errors and faced zero break points.
What He Said: "The more you win, it's logical the more confident, the more comfortable you feel out there every next time you step out on the court."
No. 22: 2023 Australian Open Final: Beat Tsitsipas 6-3, 7-6 (4), 7-6 (5)
What He Did: A year after being deported from Australia because he was not vaccinated against COVID-19, Djokovic overcame a bad hamstring and off-court hubbub involving his father.
What He Said: "This probably is the, I would say, biggest victory of my life."
————–
No. 23: 2023 French Open Final: Beat Casper Ruud 7-6 (1), 6-3, 7-5
What He Did: Djokovic broke his tie with Nadal at 22 majors and became the first man to have won at least three titles at each Slam event.
What He Said: "It's not a coincidence that I won the 23rd Grand Slam here in Paris, because this tournament was the hardest one for me to win every day of my career."
————
No. 24: 2023 U.S. Open Final: Beat Daniil Medvedev 6-3, 7-6 (5), 6-3
What He Did: At age 36, Djokovic became the oldest man to win the U.S. Open. He dropped only two sets in the tournament — both when falling behind Laslo Djere by two sets to none before coming back to win in the third round.
What He Said: "I never imagined that I would be here standing with you, talking about 24 Slams. I never thought that that would be the reality."