No problem with Ajit entry, MLAs will retain seats: Shinde
MUMBAI: With the inclusion of the Ajit Pawar faction of
NCP
in the Maharashtra government, some Sena ministers and MLAs have over the past three days voiced discomfort over the government becoming the Shinde-Fadnavis-Pawar government.
Opposing any possible appointment of
Aditi
Tatkare as guardian minister of Raigad district, Bharat Gogawale said, "It had been decided earlier that the guardian minister would be with the Shiv Sena." Mahendra Thorve said, "We will not accept Aditi Tatkare as guardian minister."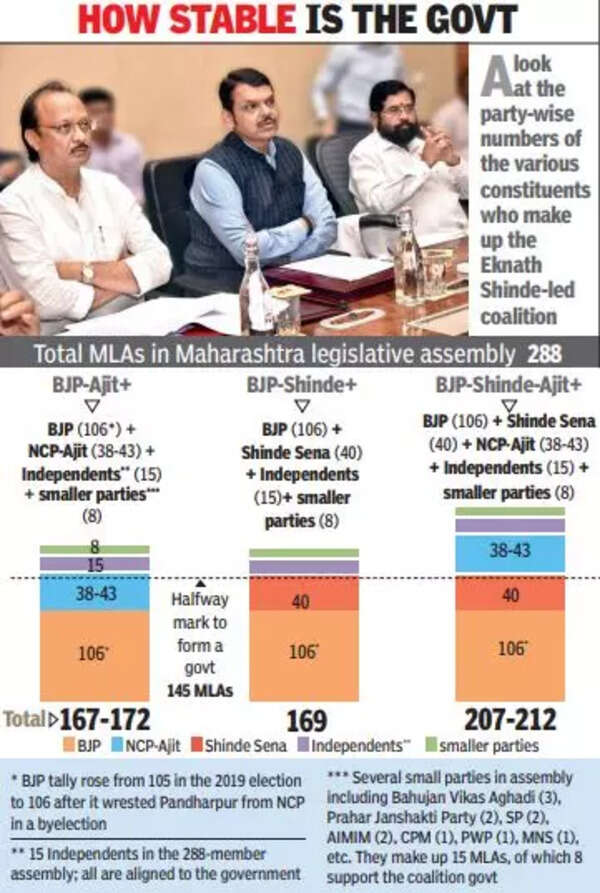 Bachchu Kadu
said on Thursday, "For the 40 MLAs who joined the rebellion, now the situation is that it was a mistake.
There should be some information that is shared. Even as an ally, we don't get any information,"
He lashed out at BJP and said it did not care about its allies. "BJP only wants to strengthen its own party. Those coming in can fall into a ditch or die, BJP does not think about this. It is focused on winning the Lok Sabha polls," he said.
Speaking to the media, CM Shinde, however, denied that there was any discontent within his party as a result of Ajit Pawar's induction. "There is no problem with Ajit Pawar's entry. It has made our government stronger. All of us believe in PM Narendra Modi's vision," he said. When asked about the likelihood of seat-sharing issues in future between the three allies, Shinde said, "Those who have won seats will retain them. The rest will be shared amicably." 03:22
Maharashtra politics: Ajit Pawar has accepted that there is development in the state, says Eknath Shinde
Dismissing rumours that he would resign, Shinde, who recently completed one year as CM, said, "All kinds of stories are being spread. The Shiv Sena (UBT)'s own house is falling apart, and they are making allegations about others. This shows that they live in their dreams. We were in power but left our posts because of ideology," he said.