MS Dhoni turns 42: A look at career, accomplishments of 'captain cool'
NEW DELHI: Mahendra Singh Dhoni's journey is nothing short of inspirational, starting from his days as a ticket collector at a railway station to becoming one of India's most successful cricket captains.
Celebrated Indian wicketkeeper-batsman and former captain Dhoni, who led Team India to three major ICC trophies, celebrated his 42nd birthday on Friday.
Under his leadership, the team secured victories in the ICC T20 World Cup 2007, ICC Cricket World Cup 2011, and ICC Champions Trophy 2013.
Making his international debut in 2004, Dhoni established himself as a fearsome striker of the cricket ball, eventually transitioning into a calculated finisher who guided his team to triumphs with his tactical acumen and controlled aggression.
In Test cricket, Dhoni appeared in 90 matches, amassing 4,876 runs at an average of 38.09. His record includes six centuries and 33 half-centuries, with a highest score of 224. He ranks 14th among India's highest run-scorers in Tests.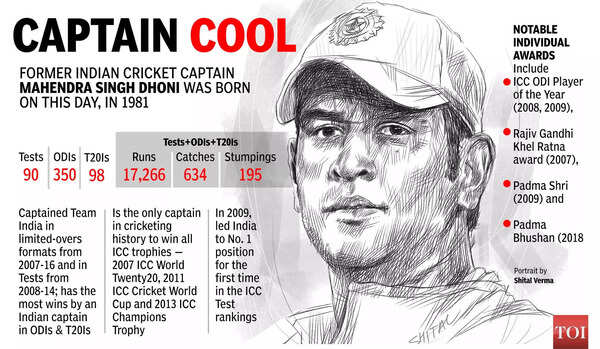 As a captain, Dhoni led India in 60 Test matches, winning 27, losing 18, and drawing 15. With a win percentage of 45.00, he stands as one of India's most accomplished skippers across all eras. Dhoni guided Team India to the top spot in the ICC Test Rankings and holds the distinction of being the only Indian captain to achieve a whitewash against Australia in the Border-Gavaskar Trophy, accomplishing the feat in the 2010-11 and 2012-13 series.
Dhoni's prowess was particularly evident in the One Day Internationals (ODIs). In 350 ODIs, he amassed 10,773 runs at an average of 50.57. His ODI record includes 10 centuries and 73 fifties, with a remarkable unbeaten score of 183*. He ranks fifth among India's highest run-scorers in ODIs, with Sachin Tendulkar leading the list with 18,426 runs. Dhoni also holds the distinction of being the 11th most successful ODI batsman of all time. The fact that he achieved these remarkable statistics while batting lower down the order adds to the awe-inspiring nature of his accomplishments.
Having captained India in 200 ODI matches, Dhoni achieved remarkable success, winning 110 while losing 74. Additionally, five matches ended in ties, and 11 failed to produce a result, resulting in an impressive win percentage of 55.
Dhoni's power-hitting ability is evident in his tally of 229 sixes, placing him as the fifth-highest six-hitter of all time. Among Indian players, he ranks second, just behind Rohit Sharma's 275 sixes. Dhoni also holds the distinction of being the sixth-fastest player to reach 10,000 ODI runs, accomplishing this feat in just 273 innings.
Affectionately known as 'Mahi' by fans, Dhoni represented India in 98 T20Is, accumulating 1,617 runs at an average of 37.60 and a strike rate of 126.13. He registered two half-centuries in the format, with a top score of 56.
As a captain, Dhoni led India in 72 T20Is, securing victory in 41 matches and suffering defeat in 28. One match ended in a tie, while two failed to produce a result, resulting in a win percentage of 56.94.
Dhoni's contributions with the bat extend across all formats, as he stands as the fifth-highest run-scorer for India. In a total of 538 matches, he amassed 17,266 runs at an average of 44.96 and an impressive strike rate of over 79. He recorded 16 centuries and 108 fifties across all formats, with a best score of 224.
Remarkably, Dhoni holds the record for leading a team in the most matches as a captain in cricket history. He led India in 332 matches across all formats, resulting in 178 victories, 120 defeats, six ties, and 15 draws, culminating in a win percentage of 53.61.
Dhoni's wicketkeeping skills are equally commendable. With a total of 829 dismissals, he ranks third in terms of the highest number of dismissals, trailing Adam Gilchrist of Australia (905) and Mark Boucher of South Africa (998). His 634 catches are also the third-highest in international cricket history. Additionally, his lightning-fast reflexes led to an impressive tally of 195 stumpings, the highest recorded by any wicketkeeper in the history of cricket.
Beyond his accomplishments with the Indian national team, Dhoni played a crucial role in guiding the Chennai Super Kings (CSK) to success in the Indian Premier League (IPL) and the Champions League T20. He captained CSK to five IPL titles in 2010, 2011, 2018, 2021, and 2023, as well as two CLT20 titles in 2010 and 2014. Dhoni stands as the most successful captain not only in franchise cricket but in cricket as a whole.
In the IPL, Dhoni has featured in 250 matches, primarily representing CSK, with a brief stint at Rising Pune Supergiant from 2016 to 2017. In these matches, he amassed 5,082 runs at an average of 38.79, including 24 half-centuries. Dhoni also secured 142 catches and executed 42 stumpings.
Considering his astonishing statistics as a middle-order batsman and his remarkable success as a captain, it is highly unlikely that India and the world of cricket will witness another phenomenon like 'Captain Cool,' MS Dhoni.