Mentally-ill woman shot dead in Imphal; 2 men tortured, killed
GUWAHATI: Manipur woke up on Thursday to the horror of a mentally-ill woman beinled by unidentified assailants to an Imphal neighbourhood and shot at point-blank range, hours after videos emerged of two young men who had been reported missing being tortured and gunned down by suspected militants in neighbouring Kakching.
Around 8.40am, the body of a middle-aged woman clad in a red top and yellow wrap-around lay on a road at
Kwakeithel Mayaikoibi
in the heart of Imphal as bystanders momentarily left immobile by the spectacle of violence scurried to safety.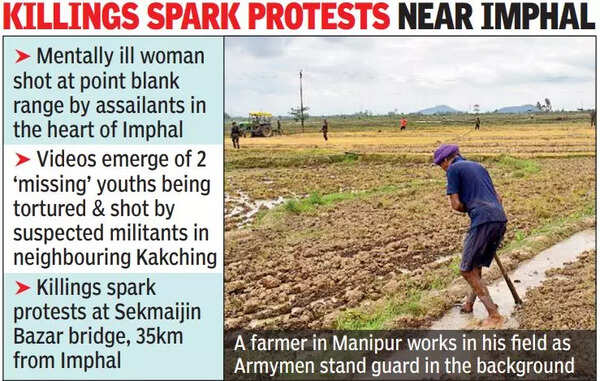 The victim was identified as
Donngaihchin
, apparently a familiar face in the locality. "Donngaihching used to spend her days walking the streets aimlessly, and lived in a small shed built by her sympathisers near a church in Lamphel. Fellow tribals would give her food," the Indigenous Tribal Leaders' Forum (
ITLF
) said, iterating its demand for President's rule in the state.
Even the mentally ill are now no longer safe in Manipur, the ITLF added.
About 35km from Imphal, protesters converged on the Sekmaijin Bazar bridge in Kakching district, blocking the road over videos of two youths, identified as
Irengbam Chingkheinganba
(26) and
Sagolshem Nganleiba
(33), being killed by an armed group.