An 11 month old boy has been named as the world's 'most well travelled' baby. Atlas
Montgomery
has already travelled to 23 countries, which seems to be a dream for many others. The family, comprising baby
Atlas
and his parents, Becs
Lewis
and Will Montgomery have been travelling all over Europe in a camper van. Since the age of six weeks old, little Atlas has been on the go in the van.
The mother Becs Lewis took a maternity leave that will allow the family to travel until early November.
While many parents might fear the thought of taking a baby on a journey so long, the adventurous family thinks otherwise. "It never occurred to me that you could travel with a baby. It seemed so unrealistic, but it is not that hard." Lewis added, "It has been amazing — you can see every bit of his growth. It's great being able to travel, just the three of us," the mother told South West News Service (SWNS).
A third of 18-year-old women in Japan may never have children, finds study
The family marks the baby's milestones country wise. Little Atlas, who will turn a year old at the end of August, had begun crawling in Switzerland, in Norway he got his first tooth and it was in France that he started to eat solid foods. Till now the family has visited countries like Italy, San Marino, Switzerland, Denmark, Austria, Croatia, Czechia and various other countries.
The baby was born to the family in Queenstown, New Zealand and at the age of six weeks old the journey for the 23 countries and still counting began. The first stop was Singapore, where he met his father's side of the family. The family then went to the United Kingdom to introduce Atlas to the mother's side of the family.
Here the family decided to buy a Fiat Ducato Van and made it their home for the rest of the travel time. According to Lewis, the motor is quite spacious with a bathroom and sufficient storage space with a sink, a toilet and two foldable table areas. She also informed that by the time the trip is over, Atlas would have travelled 25 countries in total.
The mom who made the right move: 5 times Chess grandmaster Praggnanandhaa's mom set new milestones
Due to the conditions of their visas, the couple had to fly back to the UK every three months and come back to start the trip right from where they had left. The couple are shop managers and it was a dream trip for them. Although the unexpected pregnancy brought some barriers, they decided to go on with the plan and give a joyous and adventurous year to the baby which he would love to look back on.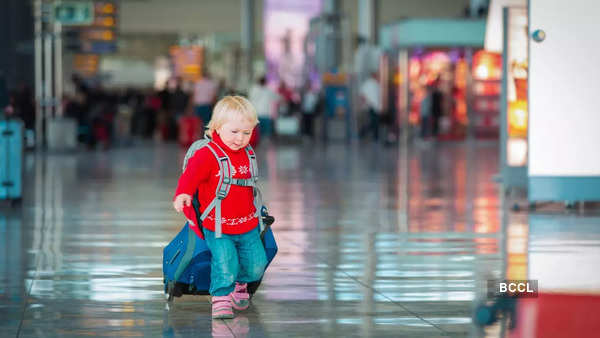 representative image
Here are a few tips you can take from the Montgomery family on how to make a family trip with a kid
Travelling with an infant can be challenging, but with proper planning, it can be enjoyable and fun for everyone. Some basics like carrying all the needed essentials that includes food, all weather clothes, diapers, wipes, toys and whatever that your baby requires daily and everything extra! and Here are some tips to learn from the Montgomery family:
Plan around sleep: Try to travel during your infant's nap times or bedtime to minimise disruption. You would know what your baby requires hence try to schedule everything like, flights, road plans in such a way that corresponds with the baby's routine.
Great planning: when travelling with your baby spontaneous plans are out of the way. Plan each and every moment with clear points. Also do research on what all can be found nearby (hospitals and general).
Play space: Lewis advises the family who are travelling with their baby should always plan upon creating a playing area for them to feel free and have their own space. Whenever possible let them out to play under the sun.
Safety and security: According to the mother you should have a fire alarm, co2 alarm, and fire extinguisher and also keep all the doors and windows locked as per requirement. Also come out with unique ways that would ensure more safety to you and your family.
Comfortable tagalongs: carry a carrier and a stroller that will help you carry your baby around while exploring different places and keeps your hands free. Also add a comfortable chair and stick by the foldable furniture.
Be Patient: Understand that delays and disruptions can happen; stay patient and flexible to the needs of the baby and take your time to enjoy the trip.