NEW DELHI: A day after the government notified the constitution of a high-level committee headed by former President
Ram Nath Kovind
to explore the possibility of simultaneous elections to Parliament and state assemblies, secretaries of the legal and legislative departments of the law ministry met him on Sunday as part of a preparatory briefing.
The legislative department in the law ministry deals with the issue of elections, the Representation of the People Act and related rules and its secretary
Reeta Vasishta
discussed with Kovind the legislative help the panel may require during its deliberations.
The committee has been given the task of examining the possibility of simultaneous polls to all three tiers of elections, including panchayats and municipalities. Though there is no time-frame specified in the notification, the order says the panel can submit its recommendations at the earliest.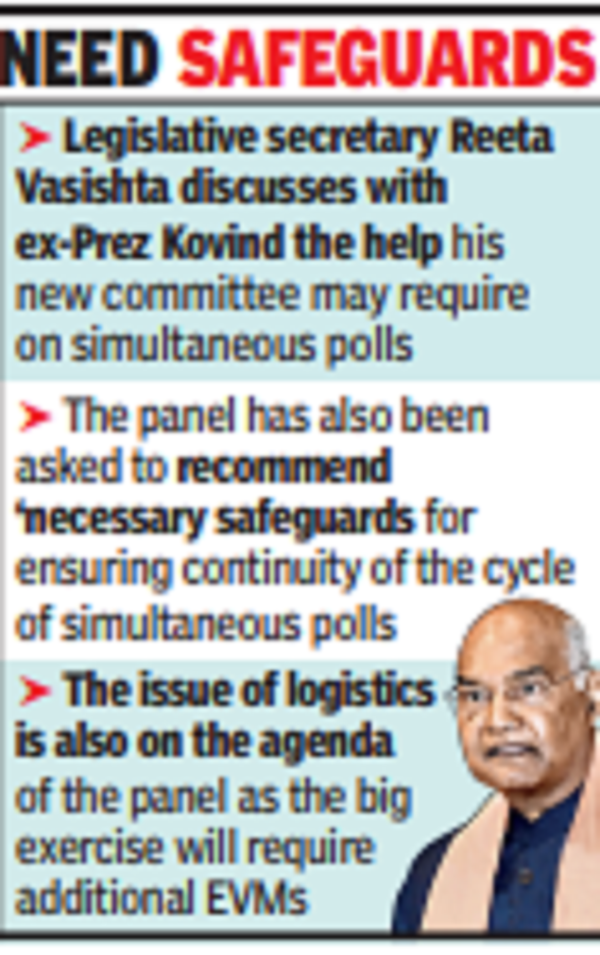 Among the terms of reference, the committee will look into a framework to synchronise elections in a specified time-frame. It will look into whether any amendments are needed in the Representation of the People Act and if and when passed by Parliament, will require ratification by 50% of state assemblies.
The committee has also been asked to recommend "necessary safeguards for ensuring the continuity of the cycle of simultaneous elections and recommend necessary amendments to the Constitution so that the cycle of simultaneous elections is not disturbed". The issue of logistics is also on the agenda of the panel as the massive exercise will require additional EVMs and paper-trail machines, besides polling and security personnel.
On Saturday, the law ministry had notified constitution of an eight-member committee that included home minister Amit Shah, Congress leader in Lok Sabha Adhir
Ranjan Chowdhury
, former J&K CM Ghulam Nabi Azad and former finance commission chairman N K Singh. Chowdhury, however, declined the offer to be part of the committee that includes former Lok Sabha secretary general Subhash C Kashyap, senior advocate Harish Salve and former chief vigilance commissioner
Sanjay Kothari
as members. Law minister Arjun Ram Meghwal will attend the meetings as a special invitee while law secretary Niten Chandra will be the secretary to the panel. 04:02
Amit Shah joins 'One Nation, One Election' panel; Adhir Ranjan declines participation amidst political controversy
The government and the Election Commission may follow up with the preparation of a single electoral card for all levels of elections.