Lalu: 'No prime minister should stay in PM house without wife'
NEW DELHI: Former Bihar chief minister Lalu Prasad on Thursday said no Prime Minister should be allowed to stay in the PM house without his wife.
"Whosoever becomes Prime Minister should not stay in the PM house without his wife. Staying at PM's residence without a wife is wrong. This practice should end," Lalu said when asked by reporters about the PM face from the opposition ranks.
Lalu's response, that appeared to target
PM Modi
, came when reporters asked him about his recent advice to Congress leader Rahul Gandhi to get married.
At the meeting of opposition parties in Patna, Lalu had told Rahul: "You didn't pay heed to our advice and haven't got married yet. It is still not late, get married and we all will attend the ceremony. Take my advice and get married. Your mother used to tell me that you don't listen to her when she talks about your marriage."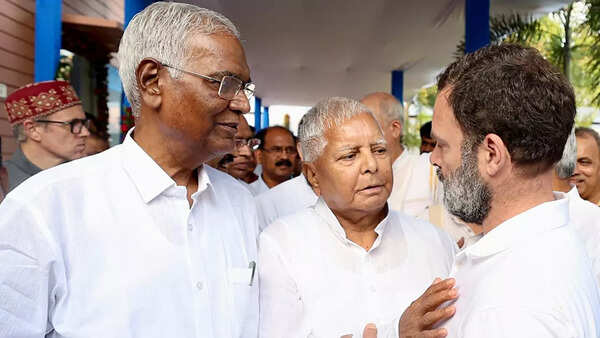 When asked about PM Modi's resolve to act against all the corrupt politicians, Lalu said "the Prime Minister is the convenor of the corrupt".
To buttress his point, he cited the recent alliance of the BJP with
Ajit Pawar
, who split the Nationalist Congress Party to join the Eknath Shinde led NDA government in Maharashtra.
Prime Minister Modi had last week called the Nationalist Congress Party corrupt and had said its leaders were involved in various scams.
"If I talk about the NCP, there are allegations of about Rs 70,000 crore scam against them. The Maharashtra Cooperative Bank scam, the Maharashtra irrigation scam, illegal mining scam … the list is very long," PM Modi had said in his speech on June 27 to BJP workers in Madhya Pradesh.
However, just days after his remarks, the BJP in Maharashtra on July 2 joined hands with NCP's Ajit Pawar. While Ajit Pawar became the deputy chief minister , 7 other NCP MLAs became ministers in the NDA government in the state.