Khalistanis circulate pictures of 2 diplomats in Canada
NEW DELHI: An alert has been sounded and security of key officials at Indian missions in some countries is being reviewed after pro-Khalistan elements circulated posters with the names and photographs of two Indian diplomats posted in Canada, holding them responsible for the killing of
Khalistani
terrorist Hardeep Singh Nijjar last month.
Threatening to avenge the killing of Nijjar, a designated terrorist who was gunned down by unidentified men in Surrey, British Columbia, on June 18, the posters named and printed the photographs of India's high commissioner to Canada Sanjay Verma and consul general in Toronto Apoorva Srivastava.
The posters drew a sharp reaction from the Indian government, with external affairs minister S Jaishankar saying India would raise the issue with Canada and warning that such activities going unchecked would hurt bilateral ties.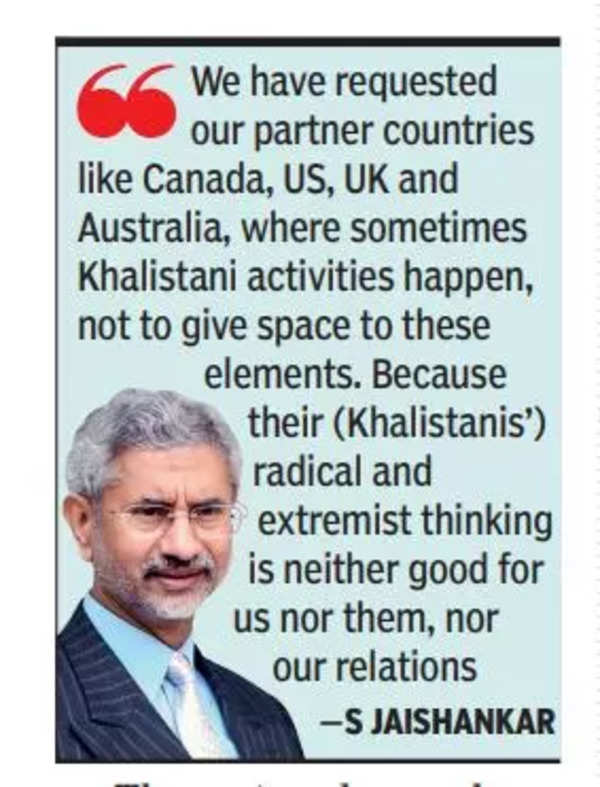 Don't give space to Khalistanis: India to Canada, UK, US, Aus
Security of key officials at Indian missions in some countries is being reviewed after pro-Khalistan elements circulated posters with the names and photographs of two Indian diplomats posted in Canada.
"We have requested our partner countries like Canada, the US, the UK and Australia where sometimes Khalistani activities happen, not to give space to the Khalistanis. Because their (Khalistanis) radical, extremist thinking is neither good for us nor them nor our relations," foreign minister S Jaishankar said. "We will raise the issue of the posters with those governments. I think it would have already been done by now," he added. Last week, Jaishankar had blamed vote bank politics for Canada's reluctance to move against pro-Khalistan elements.
Khalistan
supporters have also threatened to march to the Indian consulate in Toronto on July 8.
Sources said Indian agencies at home and abroad suspect the role of two Khalistani supporters, Amarjot Singh and Baba Sarwan Singh, and their associates for circulating the menacing posters which were circulated on social media. Both were named in an FIR filed by the NIA in connection with attacks on Indian consulates in San Francisco and Ottawa in March. Amarjot is the brother-in-law of jailed Waris Punjab De chief Amritpal Singh.
Khalistani terrorist Hardeep Singh Nijjar, who headed the terrorist outfit Khalistan Tiger Force (KTF), was shot dead in a targeted killing inside the Guru Nanak Sikh Gurdwara Sahib in Surrey, British Columbia. Nijjar's name had come up in a list released by the government, which named 40 other designated terrorists. Last year, the NIA had declared a reward of Rs 10 lakh on Nijjar. Besides being the KTF chief, Nijjar was also associated with the secessionist outfit Sikhs For Justice (SFJ). In 2020, Gurpatwant Singh Pannun, the outspoken SJF founder, had appointed Nijjar as the outfit's representative in Canada to promote the 'Referendum-2020 campaign'. The slain Khalistani terrorist also played a crucial role in organising the referendum in Canada's Brampton, officials said.
India slammed Canada after visuals surfaced on social media of a tableau in Brampton that reportedly celebrated the assassination of former PM Indira Gandhi. While Canada has condemned some of these activities, its law enforcement agencies have done nothing to put an end to the aggressive and even violent anti-India campaign.