NEW DELHI: Canadian prime minister Justin Trudeau's allegations that India may be involved in the killing of Khalistani extermist Hardeep Singh Nijjar made headlines across the globe, with top news outlets prominently highlighting the diplomatic spat between the two countries.
Notably, certain media outlets, including BBC, referred to Nijjar as a "Sikh separatist activist".
This, even as India designated the Khalistani leader as a wanted terrorist for his involvement in terror activities.
Here's how the Western media described Nijjar while covering the diplomatic row:
The New York Times ran the story prominently on their homepage with the headline "Justin Trudeau Accuses India of a Killing on Canadian Soil".
NYT referred to Nijjar as a Sikh leader who "advocated separatism".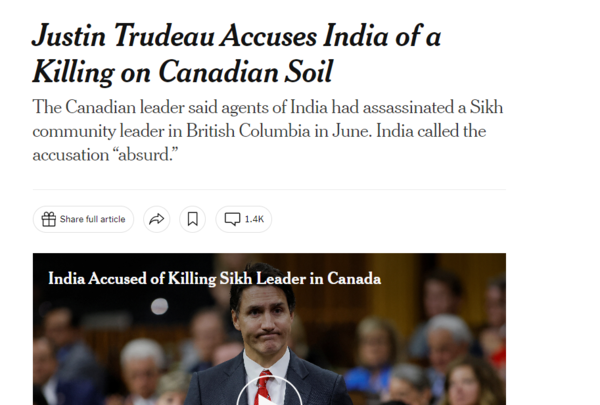 UK-based BBC, which ran a live coverage of the diplomatic row, also referred to Nijjar as a "Sikh separatist activist".
It also referred to separatist Amritpal Singh's handler, Khalistani leader Avtar Singh Khanda, as a separatist "activist".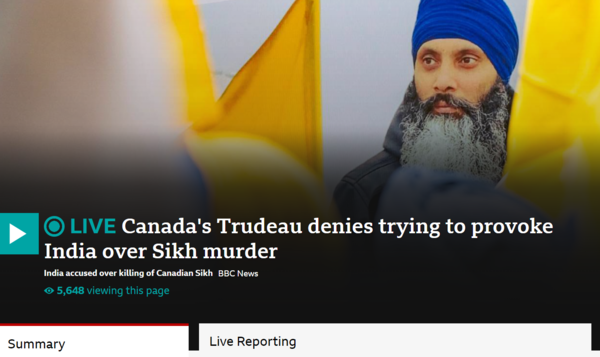 The Washington Post, which also covered the development closely, called Nijjar a "Sikh separatist leader".
In its report, titled "Canada's allies rebuff its requests to join in accusations against India", The Washington Post revealed that Canada's allies rejected any requests from Trudeau government to "publicly condemn" the murder.

CNN, which ran the story on its homepage, described Nijjar as "a prominent Sikh leader in western Canada".
Although all of these media outlets did acknowledge India's designation of Nijjar as a terrorist, they used a more restrained tone when describing the Sikh separatist.
Nijjar designated as terrorist by India
Nijjar was designated as a terrorist by the Union home ministry, which also accused him of working closely with Babbar Khalsa International (BKI) led by Jagtar Singh Tara.
He carried a cash reward of Rs 10 lakh and was involved in several anti-India activities.
Nijjar was born in Punjab on November 10, 1977 and was affiliated with the now banned
Khalistan
Tiger Force (KTF). He was arrested in the mid 1990s.
He managed to get bail and fled India on February 19, 1997 by assuming a fake identity of Ravi Sharma and securing a travel document in that name.
In 2013-14, Nijjar visited Pakistan where he met Jagtar Singh Tara of Khalistan Tiger Force (KTF), wanted in assassination of Punjab former chief minister Beant Singh.
He was during that period roped in by the ISI which helped him in organising secret training camps for Sikh extremist groups associated with the Khalistan movement in Missigen Hills, British Columbia.
He has also been associated with Dal Khalsa leader Gajender Singh, a key accused in hijacking of an Indian Airlines flight in 1981.
Nijjar along with criminals like Arsh Dalla were generating huge amounts of funds for anti-India activities by various means which included drug money and finances from Gurdwaras, the officials said.
India has maintained that Nijjar's killing was a handiwork of internal rivalry between various groups.
Indian authorities have repeatedly raised the issue of deportations of wanted terrorists and gangsters with Canada.
However, Indian officials have said that Canadian authorities have remained non-committal and brazen in support of these terror elements.
The separatist organisation were openly issuing assassination threats, fuelling separatists' agenda and carrying out targeted killings in India, they said.
They pointed out that high profile assassination of popular singer Sidhu Moosewala by the Canada-based gangster with affiliations to pro-Khalistan elements "is a classic example of this".
(With inputs from PTI)