IT cos to see muted first qtr: Brokerages
BENGALURU: Indian IT services companies will report modest numbers in the upcoming results season, say brokerages.
Weaker discretionary spending, delays in decision-making, and weakness in sectors like mortgage, retail & telecom are expected to keep revenues down in the April-June quarter of FY24. HDFC Securities estimates IT sector growth will moderate to 5% in FY24 before recovering to 9% in FY25.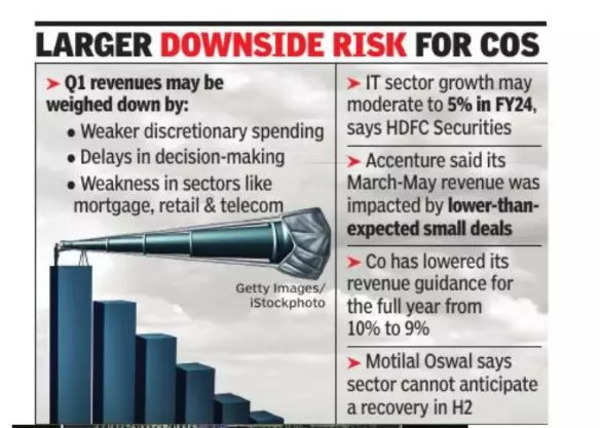 Accenture's Q3 (March-May) revenue growth was a mere 5% in constant currency. The IT services company said that its revenue was impacted because of lower-than-expected small deals. The firm has lowered the top-end of the revenue guidance for the full year from 10% to 9%. This will be a sharp drop from the 26% growth in FY22.
Research firm Investec said, "We don't expect any changes to full-year revenue growth guidance of Infosys or HCL. However, the top end of the guided range is unlikely to be achieved for both in our view." Infosys has guided for 4-7%, and HCL for 6-8%.
Emkay Global financial services expects that for tier-1 IT companies, the constant currency revenue could decline by 2.3% in Q1, compared to Q4 FY23.
Motilal Oswal
says that the IT services sector cannot anticipate a recovery in the second half of the financial year. "The recovery is expected to be more gradual in nature and should occur only in FY25," it said.
Investec says there could be further deterioration for
Tech Mahindra
and
Wipro
due to higher furloughs across retail, hi-tech and manufacturing sectors. It adds that Tech Mahindra would not be able to achieve its aspiration to improve margins by 100 basis points (1 percentage point) for the rest of the fiscal year.
BNP Paribas expects Tech Mahindra's appointment of
Mohit Joshi
(former Infosys president) as its new CEO will help the company recover its position in the banking and financial services sector, where Joshi has huge respect among clients.
One thing common in all the reports is that there would be heavy investment in generative AI by all the IT services companies.