IPL business worth over $15 billion: Report
MUMBAI: Houlihan Lokey, a global investment bank that has valued several sports franchises around the world, has pegged the enterprise value of the Indian Premier League (IPL) at Rs 1. 3 lakh crore ($15. 4 billion) and the
brand value
at Rs 26,600 crore ($3. 2 billion).
Houlihan Lokey also ranked Chennai Super Kings brand value at about Rs 1,760 crore ($212 million), followed by Royal Challengers Bangalore at $195 million, Mumbai Indians at $190 million and Kolkata Knight Riders at $181 million. The US-based, NYSE-listed outfit also said that the Women's Premier League (WPL), which was launched by the Board of Control for Cricket in India (BCCI) earlier this year, is on track to become another unicorn soon. This was Houlihan Lokey's first attempt at valuing the IPL.
It also said that when the IPL's broadcasting fee is compared with other professional leagues in the world on a per-match basis, the IPL fares well above the likes of the NBA (US), English Premier League (UK) and Bundesliga (Germany) and is second only to the National Football League (NFL of US).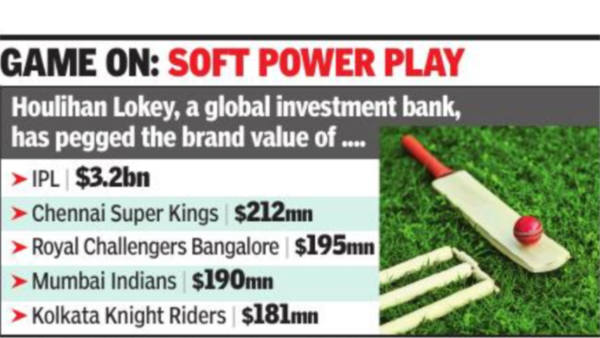 "We delve deep into the world of the IPL, uncovering the tremendous value itholds as both a business and a brand," Dimitri Drone and Tomasz Stefanowski, both MDs and co-heads of corporate valuation advisory services at Houlihan Lokey said. "Our analysis aims to provide a holistic perspective on the league's economic significance, its impact on the sporting landscape, and the factors that contribute to its success. " One of the key aspects that the report aims to explore is the individual brand value of the 10 teamsthat participated in the 2023 edition of the cricket league, up from eight in 2021.
According to Houlihan Lokey, the IPL's business value stood at $15. 4 billion in 2023, up 80% over last year's value of $8. 5 billion (pre-renewal of broadcast rights deal), largely due to the 2023–27 cycle of
media rights
deal with Jio Cinema and Disney Star, which was three times the price of the 2017 five-year deal between Disney Star and the BCCI.
"With the emergence of OTT and the continued popularity and global reach of the IPL, the media rights are expected to further increase when they will be up for renewal in the next cycle in 2027, which contributes to the IPL's enhanced business value," Harsh Talikoti, SVP, corporate valuation advisory services at the firm and the author of the report, said.