'Investors cautious, seek fin visibility, audits'
NEW DELHI:
Edtech
unicorn Physics Wallah (PW), which started as a YouTube channel, is today one of India's very few profitable startups. Affordable pricing and a loyal community of YouTubers gave the startup an edge in a crowded edtech market; PW today has 16.5 lakh paid users. Co-founder Prateek Maheshwari and Abhishek Mishra, CEO, online, talk about business expansion, the firm's corporate governance practices and the impact of the developments at Byju's on the broader edtech space. Excerpts:
The PW app was launched during Covid and the company naturally benefitted from the digital boom. How has growth been since then?
Prateek: We started in May 2020 which was peak Covid period. The entire education system back then was in disarray. We wanted to democratise education. We designed NEET, JEE courses which were priced at Rs 4,000. Our competitors had priced their product quite high which real India cannot afford. In 2020, we taught around 1.5 lakh kids at that price point. Today, we have 16.5 lakh paid users. Last year, we raised funds and decided to launch physical centres.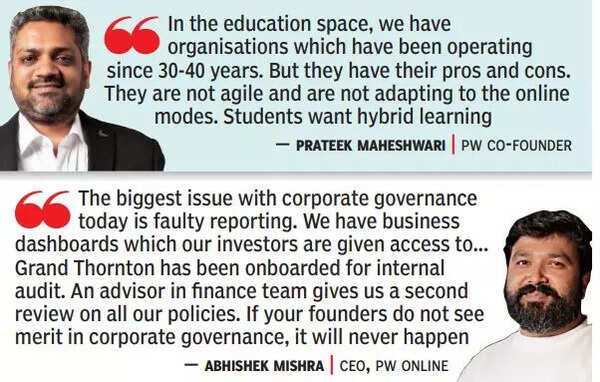 How did you manage to price your products so low?
Prateek: The competitors spent heavily on marketing whereas we adopted a community approach. We offered a lot of free content on YouTube which helped us gain reach. Many of our videos on the app are free. We didn't have marketing burn. We offer a product named as batch on the app which is paid. So, pricing (which ranges between Rs 1,000-8,000 across courses) and distribution via YouTube have been our moat. We aim to have 30 lakh paid users by year end.
What was the reason for going hybrid? How tough is the competition from the coaching hub at Kota?
Prateek: Post pandemic, students wanted to study at the offline centres. Today, 60% of our revenues come from online and 40% come from the offline mode. Our offline pricing is at Rs 60,000 which is 40% lower than competitors. In the education space, we have 30-40-year-old organisations. But they are not agile, not adapting to the online mode. Students want hybrid learning. Our offline centres use technology. Technology helps us scale faster.
How has FY23 been?
Prateek: We ended FY23 with close to Rs 800 crore in revenues. This year, we will open 40 more offline centres. In the skills domain, we will launch our own certification programmes. We will spend Rs 200 crore on expansion.
Have investors become cautious post the developments at Byju's?
Abhishek: Through 2020-2021, investors have infused about $6.5 billion into edtech startups. Now, they have come to a point wherein they have no transparency on the invested capital. Investors have now become more cautious, they are asking for financial visibility, for audits and a healthy level of diligence.