India refiners start yuan payments for Russian oil imports
NEW DELHI: Indian refiners have started paying for certain
oil imports
from Russia in Chinese yuan, Reuters reported quoting sources on Monday. This move comes as Western sanctions on Moscow and its customers have prompted them to seek alternatives to the dollar for settling payments.
The imposition of sanctions on Russia over its invasion of Ukraine has disrupted global trade flows for its primary export, with India emerging as the largest buyer of Russian seaborne oil. In June, India's imports of Russian oil reached a new all-time high.
According to Viktor Katona, the head of crude analysis at Kpler, daily volumes of Russian oil climbed to 2.2 million barrels, marking the tenth consecutive month of increase. Data from the analytics firm indicate that Russian purchases once again surpassed the combined shipments of Saudi Arabia and Iraq.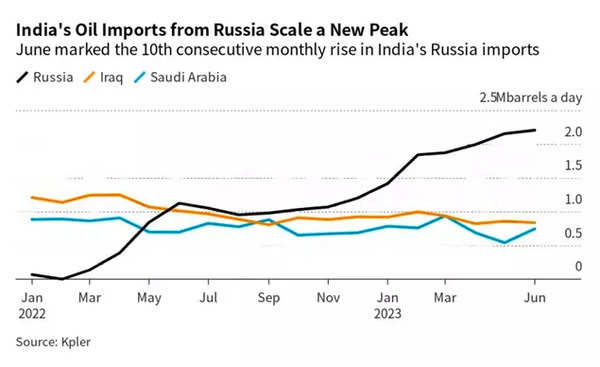 However, India has been grappling with how to pay for these imports due to the shifting sanctions landscape.
Traditionally, the US dollar has served as the main global oil currency, including for India's purchases. But, since the invasion of Ukraine, Chinese yuan is increasingly playing a significant role in Russia's financial system because Moscow has been excluded from the dollar and euro financial networks by international sanctions.
China has already transitioned to using the yuan for the majority of its energy imports from Russia.
According to three sources familiar with the matter, Indian Oil Corp, the largest purchaser of
Russian crude oil
in India, became the first state refiner in June to make yuan payments for certain Russian purchases, the Reuters reported on Monday.
"Some refiners are paying in other currencies like yuan if banks are not willing to settle trade in dollars," an Indian government source told Reuters.
Indian oil refiners have been exploring various currencies, including United Arab Emirates dirhams, rubles, and rupees, to settle payments for discounted crude. These payment arrangements can be exempted from international restrictions as long as the trades are priced below the $60-per-barrel price cap established by the Group of Seven nations and their European Union partners
It remains unclear how much Russian oil Indian refiners have bought using yuan, although sources indicated that Indian Oil has made yuan payments for multiple cargoes.
Following the imposition of sanctions on Moscow, Indian refiners predominantly sourced Russian crude from Dubai-based traders and Russian oil companies such as Rosneft, Lukoil's Litasco unit, and Gazprom Neft, according to shipping data compiled by Reuters.
While Western sanctions against Russia are not officially recognized by India, and its purchases of Russian oil may not violate them, Indian banks remain cautious about facilitating payments for such imports.
(With inputs from Reuters)