India overtakes China, now most attractive emerging market for investing: Report
NEW DELHI: India has now overtaken China as the most attractive
emerging market
for investing in emerging market debt, said a report by
Invesco
.
According to the Invesco Global Sovereign Asset Management study, India is increasingly seen as an attractive
investment
destination for sovereign investors due to improvment in its business and political stability, favorable demographics and regulatory initiatives that are friendly to sovereign investors.
The Invesco report captures the viewpoints and opinions of 85 sovereign wealth funds and 57 central banks. These institutions collective manage approximately $21 trillion in assets, the Invesco report claimed.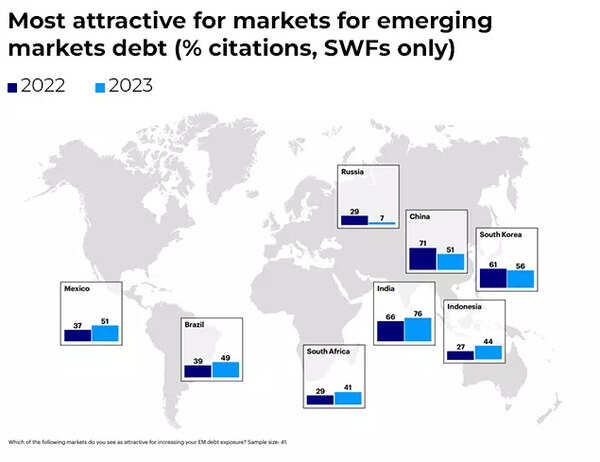 As per the report, a development sovereign based in the Middle East said, "We don't have enough exposure to India or China. However, India is a better story now in terms of business and political stability. Demographics are growing fast, and they also have interesting companies, good regulation initiatives, and a very friendly environment for sovereign investors."
India is one of several countries, including Mexico and Brazil, that are benefiting from increased foreign corporate investment.
This investment is aimed at both domestic and international demand, and is being driven by factors such as "friend-shoring" and "near-shoring."
Friend-shoring refers to the practice of companies relocating their supply chains to countries that are friendly to their interests. Near-shoring refers to the practice of companies relocating their supply chains to countries that are geographically close.
This increased investment is helping to fund current account deficits, support currencies, and boost domestic assets, including debt.
It is also being seen as a sign that inflation is peaking and that the emerging markets tightening cycle is nearing completion.
Several emerging markets, including Brazil, are expected to overcome inflation and eventually stop tightening monetary policy.
At the same time, important commodity countries such as Brazil and Indonesia are seen as well-placed to benefit from the green transition and electric vehicle revolution.
This is because these countries have abundant natural resources that are essential for the production of green energy and electric vehicles.
As a result, these countries could provide an important source of diversification for sovereign investors with more concentrated commodity revenue streams.