Heaviest 24-hour July rain in 41 years paralyses NCR, 6 dead
NEW DELHI: The heaviest two-day rainfall in July that the city has seen in at least 41 years brought Delhi-NCR to its knees, claiming six lives across the capital and Gurgaon, and paralysing the region with waterlogged roads, flooded homes, house collapses, road cave-ins and uprooted trees.
Safdarjung
in the capital logged 153mm rainfall in 24 hours till 8.30am on Sunday, the highest single-day rainin July since 1982.
In the next nine hours, the station received 105.8mm more. This was the first time in readily available records going back 13 years that Safdarjung, Delhi base station, the station had reported over 100mm of rain for two consecutive days.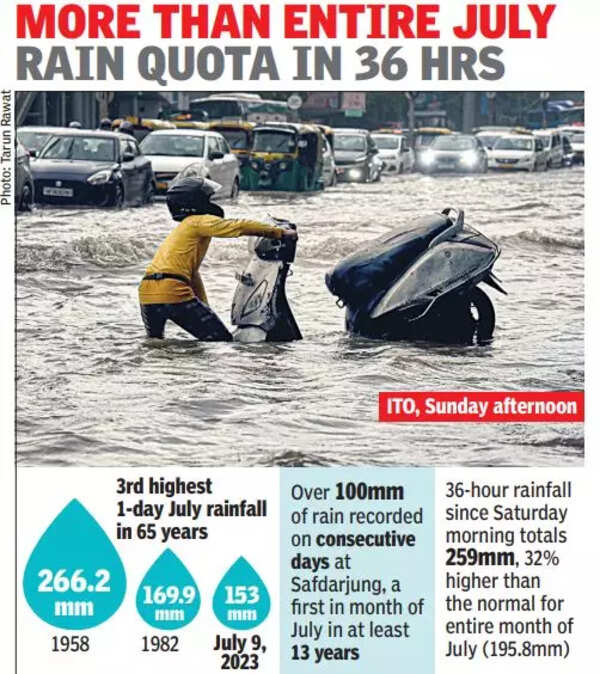 The rainfall in just 36 hours, nearly 260mm, was 32% higher than the normal for the entire month of July, which is usually the second wettest after August in the capital. With more rain expected on Monday, the downpours have taken a heavy toll in the region.
At least four people died while a dozen were injured in separate incidents of house collapse, wall collapse as well as uprooting of trees in the capital. The
Delhi Fire Services
got 13 calls relating to house collapses in which seven people were rescued while three lost their lives. An auto rickshaw driver died after an uprooted tree fell on his vehicle.
In Gurgaon, which got 145mm of rain in 24 hours, two men drowned while bathing in a pond while it was raining. 02:26
Delhi records highest single-day rainfall for July since 1982: IMD
Large parts of Delhi went under water for the second day along with all official claims that agencies were ready for the monsoon. There were reports of water entering shops and residences in several localities of the capital. While the traffic flows were not high with Sunday being a holiday, several key stretches were under knee-deep water.