Hartalika Teej
is a significant Hindu festival celebrated with great fervor and devotion in India. This auspicious day falls on the third day of the first fortnight in the Hindu month of Bhadrapada, which usually corresponds to August or early September in the Gregorian calendar. It is dedicated to the worship of Goddess Parvati, the epitome of love, strength, and devotion in Hindu mythology.
According to the Hindu calendar, in the year 2023, Hartalika
Teej
will be observed from the morning of September 17th, starting at 11:08 AM, until the afternoon of September 18th, ending at 12:39 PM.
Hartalika Teej derives its name from two words – 'Harta,' meaning 'abduction,' and 'Aalika,' referring to 'female friend.' The festival commemorates the reunion of Goddess Parvati (also known as
Teej Mata
) with Lord Shiva. According to Hindu mythology, Parvati wished to marry Lord Shiva and, to fulfill her desire, observed a rigorous fast for several years. Her female friend 'Aalika' played a pivotal role in helping Parvati unite with Shiva. Aalika cleverly arranged Parvati's abduction, leading to their reunion and ultimately their divine marriage.
The story of Hartalika Teej emphasizes the power of true love and the strength of devotion. Women across India revere this day as a testament to the unwavering commitment between husband and wife.
Hartalika Teej is celebrated with great enthusiasm and adherence to customs and rituals. Women observe a day-long fast on Hartalika Teej to seek the blessings of Goddess Parvati for the well-being and longevity of their husbands. women adorn themselves with traditional attire and jewelry and visit temples dedicated to Goddess Parvati. They perform 'Shringar' (decorating the deity) and offer flowers, fruits, and other traditional offerings. After the day-long fast, women prepare delicious traditional dishes, including sweets like ghewar, malpua, and other festive delicacies. Families come together to relish these mouthwatering treats.
On the occasion of Hartalika Teej, here we list down some messages, quotes, wishes, and images you can hare on this festival.
Happy Hartalika Teej 2023: Messages, wishes and quotes
May the divine blessings of Teej Mata be with you today and always. Happy Hartalika Teej!
On this auspicious occasion, may your life be filled with happiness, love, and prosperity. Happy Teej!
May the swings of joy, mehendi's beauty, and the sweetness of festive treats make your Hartalika Teej memorable.
On this Teej, may your life be as colorful and vibrant as the swings of joy. Happy Hartalika Teej!
"The story of Parvati reminds us that every woman has immense strength and potential within her." -Chitra Banerjee Divakaruni
May the blessings of Teej Mata bring health, happiness, and harmony to your life. Happy Hartalika Teej!
Wishing you a peaceful and joyful Hartalika Teej filled with family togetherness and love.
May the divine blessings of Teej Mata fill your life with love, happiness, and prosperity. Happy Hartalika Teej!
As you celebrate Hartalika Teej, may your marital bond become as strong and unbreakable as the love between Lord Shiva and Goddess Parvati.
"The destroyer of evil, the compassionate Lord of all, the one who bestows blessings, grace, and love on his devotees." -Amish Tripathi
Wishing you a day of fasting, prayer, and love on this auspicious Hartalika Teej. May your devotion be rewarded with blessings.
May the swings of joy carry you to new heights of happiness and success. Happy Teej to you and your family!
May the divine couple, Lord Shiva and Goddess Parvati, bless your marital journey with eternal love and happiness. Happy Hartalika Teej!
On this sacred day, may your heart be filled with the joy of togetherness and your home with the warmth of love. Happy Teej!
As you celebrate Hartalika Teej, may your love story be as legendary as that of Shiva and Parvati. Happy Teej!
Wishing you a day as bright as the henna on your hands and as sweet as the festive treats. Happy Hartalika Teej!
"Har Har Mahadev! This call is not just a slogan but an expression of our determination to eliminate the evils from our lives." -Swami Vivekananda
May your love continue to bloom and grow like the beautiful flowers offered to Goddess Parvati. Happy Teej!
May your love story be as eternal and beautiful as the love between Lord Shiva and Goddess Parvati. Happy Hartalika Teej!
On this blessed day, may your heart's deepest desires be fulfilled, just like Parvati's wish to be with Shiva. Happy Teej!
Wishing you a day filled with laughter, love, and the sweetest moments. Happy Hartalika Teej!
May the divine union of Lord Shiva and Goddess Parvati inspire your relationship with love and harmony. Happy Teej!
"Parvati, the embodiment of strength and grace, teaches us that true power lies in love and devotion." -Amish Tripathi
As you fast and pray on Hartalika Teej, may your devotion bring peace and happiness into your life. Happy Teej!
Sending you warm wishes for a Teej filled with colorful swings, delightful feasts, and cherished moments. Happy Hartalika Teej!
"Parvati's love for Shiva is an eternal flame that burns brighter than any other force in the universe." -Devdutt Pattanaik
May your life be adorned with the beautiful colors of mehendi and the sweetness of traditional sweets. Happy Teej!
On this Teej, may your heart be as pure as the devotion of Teej Mata and as strong as the bond of Shiva and Parvati. Happy Hartalika Teej!
Wishing you a day of fasting and praying that leads to a lifetime of love and togetherness. Happy Teej!
May the blessings of Teej Mata shower upon you, bringing prosperity, happiness, and endless love. Happy Hartalika Teej!
As you celebrate this special day, may your love story be written in the stars and your bond remain unbreakable. Happy Teej!
Sending you heartfelt wishes for a Teej filled with joy, laughter, and the company of loved ones. Happy Hartalika Teej!
May the swings of Teej bring you moments of pure bliss and the henna on your hands tell the story of your love. Happy Teej!
On this auspicious occasion, may your home be filled with the fragrance of incense and the warmth of love. Happy Hartalika Teej!
"Parvati is the gentle mother, the fierce warrior, and the loving consort, all rolled into one divine form." -Sadhguru Jaggi Vasudev
May the divine blessings of Teej Mata envelop you in love, protect you from harm, and guide you on the path of righteousness. Happy Teej!
Hartalika Teej images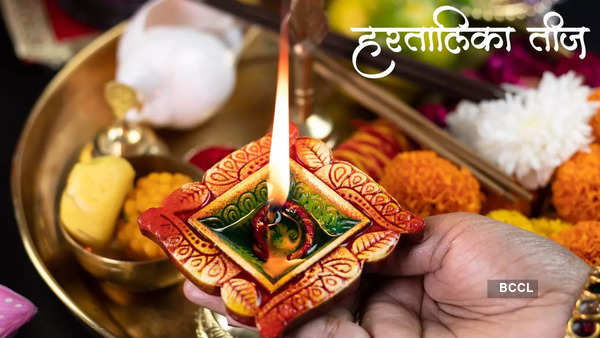 Photo: canva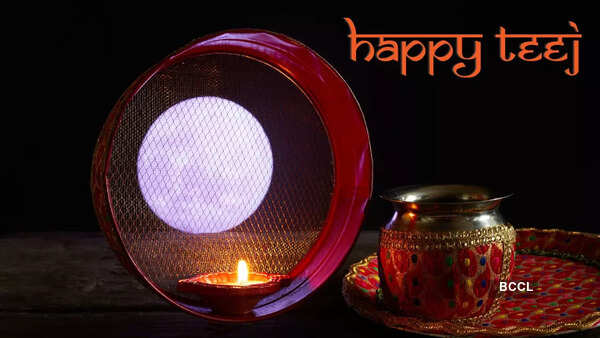 Photo: canva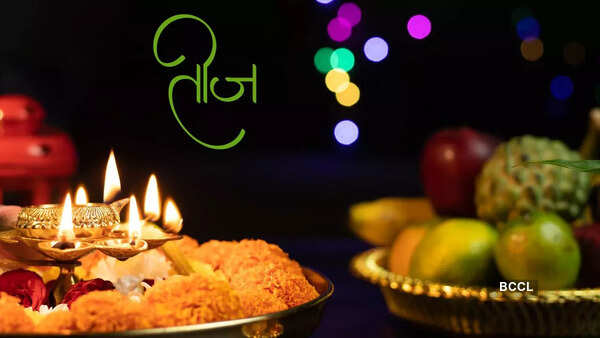 Photo: canva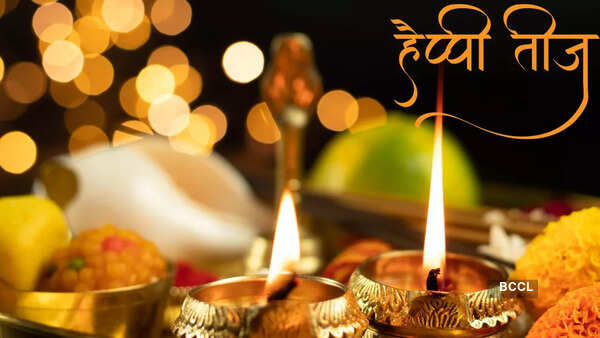 Photo: canva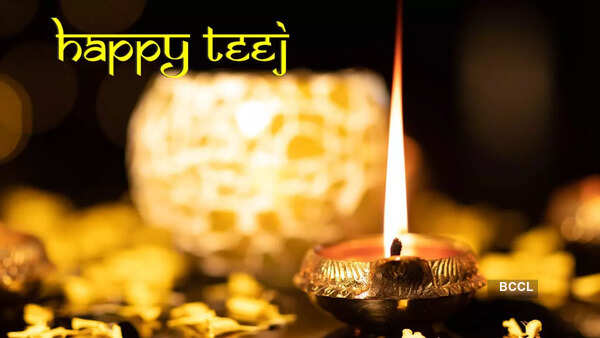 Photo: canva