Govt to use 80% of planned capex by December
NEW DELHI: Ahead of next year's general elections, the Centre has decided to frontload capital expenditure and complete 80% of the proposed spend by the end of
December
.
While several ministries have already got moving and spent up to 45-46% of their full-year allocation, there are others which are currently lagging and will have to pick up the pace. In fact, the move to step up spending during the first nine months of the financial year is being done at the behest of PM Narendra Modi, official sources told TOI.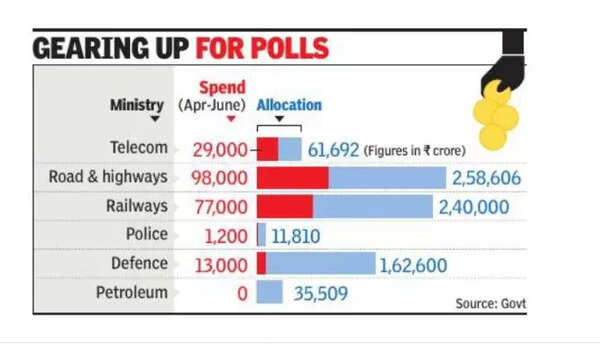 Typically, the finance ministry wants ministries to spend two-thirds of the allocated funds by the end of December, with the remaining amounts to be used up during January-March. Ministries, which are lagging, often see a reduction in the Budget, while some of the better performing ones are given more funds at the time the finance minister presents the revised estimates for the full year.
According to data available with the finance ministry, during April-June this year, the Centre's
capex
has gone up 55% to around Rs 2.7 lakh crore, with more than 27% of the Budget for this purpose already utilised.
Central public sector undertakings are, however, seen to be lagging, having used up around a tenth of the internal and extra budgetary resources (IEBR) for the year, despite a robust 25% rise in spending during the first quarter of the financial year.
A higher spending by the government and the public sector undertakings is seen to be crucial to ensure growth momentum continues as higher interest rates and weak demand in export markets have led to private sector postponing its planned investment in creating new capacities or expanding existing plants. What has added to the delay is weaker domestic demand, which the RBI believes has been hit by higher interest rates.
Frontloading of the expenditure will also help the government complete several of its projects in time for the elections and showcase them as its achievement.