SAN FRANCISCO: Google is now doing to AI what it did to the internet. "We are taking the sophistication of the
AI model
and putting it behind a simple interface called chat which then lets you open it up to every department," Google Cloud's CEO Thomas Kurian said.
Duet AI
in Workspace and Vertex AI – both recently launched products by Google – are expected to revolutionise the market, he added. Kurian was speaking with some members of the press last week on the sidelines of the three-day
Google Cloud Next
– a mega event at Moscone Center in San Francisco from August 29.
"AI can be used in virtually every department, every business function in a company, and every industry. Retailers are testing it for shopping and commerce. Telecommunication companies are using it for customer service. Banks are using it to synthesise financial statements for their wealth managers. We expect the number of people who can use AI to grow just like when we simplified access to the internet and broadened it," he added.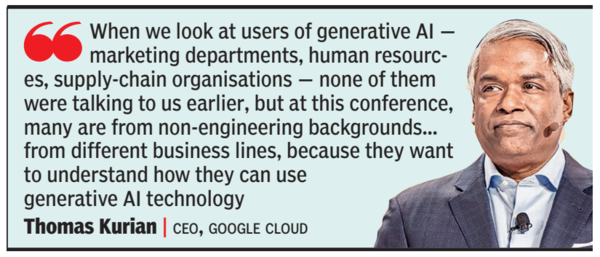 Vertex AI Search and Conversation, which was made available during the Cloud Next event, allows developers with minimum machine learning knowledge to take data, customise it, build an interactive chatbot or search engine within it, and deploy the apps within a few hours.
Aparna Pappu, VP and general manager of Google Workspace, said Duet AI has your back. "It can help write emails and make presentations using different sources and summarise what was said in a virtual meeting and even attend the meet on the user's behalf," she said in another media interaction during the event.
Kurian said that generative AI is moving technology out of the IT department to many other functions in companies.
"When we look at users of generative AI – marketing departments, HR, supply chain organisations – none of them were talking to us earlier, but at this conference, many are from non-engineering backgrounds… from different business lines because they want to understand how they can use generative AI technology," he added.
Google has provided an AI platform that protects data and ensures that it does not leak out. "We have capability in Vertex so data can be kept and any feedback or changes to the model are private to you," he added. Kurian said they have analysed a million users, understood their behaviour, and found that an average user of Duet can typically write 30-40% more emails with more than 50% of the content generated by the model.