NEW DELHI: A road map to regulate cryptocurrency, along with a path to reform multilateral development banks, is expected to figure prominently at the G20 Summit, with the leaders expected to provide guidance on the future course of action, a senior government official said on Wednesday.
The finance track deputies are meeting to work out consensus on the issues where 10 decisions had been endorsed at the end of the third meeting of G20 FMs and central bank governors in Gandhinagar in July, while 17 had been welcomed. Since then, there has been progress on several aspects, including financing the cities of tomorrow and several aspects related to climate change and energy transition.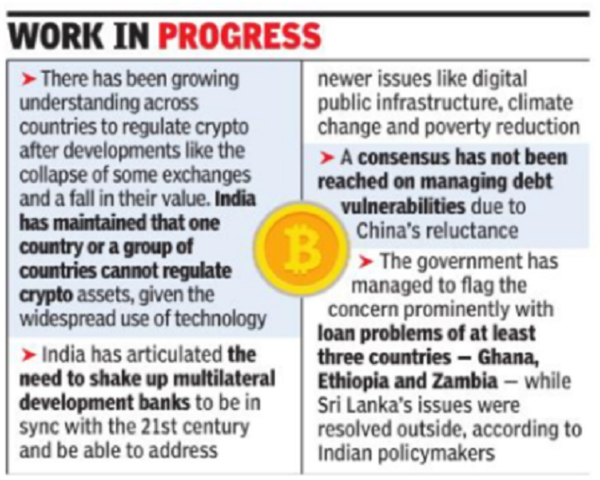 Some of the concerns from countries such as Saudi Arabia over "just transition" from an oil-led approach have been factored in, while creating a framework that provides flexibility in assessing the macro-economic impact of climate change and their transition strategy.
At the same time, managing debt vulnerabilities has so far proved to be an issue on which a consensus has not been reached due to China's reluctance. Indian policymakers, however, said that during its presidency, the government has managed to flag the concern prominently with the loan problems of at least three countries – Ghana, Ethiopia and Zambia – addressed through the common framework, while Sri Lanka's issues resolved outside.
One of the issues before the deputies is the synthesis paper prepared by the IMF and the
Financial Stability Board
that provides a comprehensive roadmap and the building blocks to regulate crypto assets. Initially, there was apprehension over G20 taking up the issue, but as things played out – including the collapse of some exchanges and the fall in value of cryptocurrency – there is now growing understanding across countries to regulate. India has for long maintained that one country or a group of countries cannot regulate crypto assets, given the widespread use of technology, while flagging the need to address macro and security-related concerns.
Similarly, in the case of multilateral development banks, like the World Bank, government officials said India has articulated the need to shake them up so that they are in sync with the 21st century to address newer issues such as digital public infrastructure and climate change, and also help reduce poverty.