New Delhi: A gush of cash is no longer chasing Indian startups but new startups are still chasing ideas. Top-level techies of established startups are quitting to set up their own shop, even in the middle of the so-called
funding winter
.
Take
Dale Vaz
, This former chief technology officer (CTO) of Swiggy joined the startup founders' club when he quit the food delivery firm in May to build a trading platform, Aaritya Technologies. Vaz, who spent five years as Swiggy's CTO, posted on X that he's recently clinched seed funding from Accel and Elevation Capital.
Another CTO-turned-founder is
Vijay Aggarwal
, who left
BharatPe
last December and is building CubeAPM – an application performance monitoring tool, according to his LinkedIn profile. What's
APM
? Basically, it's the process of using software tools and telemetry data to monitor the performance of business-critical applications.
Even CEOs are hitting the entrepreneurial road. Oyo's India CEO Ankit Gupta is on his way out and, according to people familiar with the matter, planning to set up his own fintech venture. Vaz and Aggarwal did not respond to messages from TOI while Gupta could not be reached immediately.
What makes these risk-takers stand out is that they are giving up the certainty of a paycheque at a time when funding for the broader ecosystem has dipped, and many companies are cutting costs and slashing junior & mid-level jobs. Investors now part with cash after much greater scrutiny of new ideas.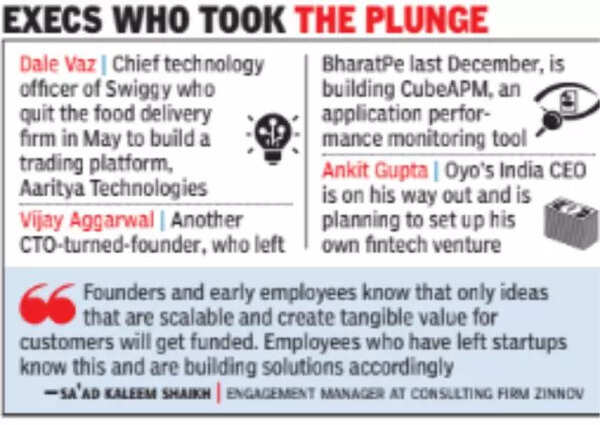 "Founders and early employees know that only ideas that are scalable and create tangible value for customers will get funded. Employees who have left startups know this and are building solutions accordingly," said Sa'ad Kaleem Shaikh, engagement manager at consulting firm Zinnov.
The other positives for these startup-seniors-turned-entrepreneurs, Shaikh said, are that, first, early-stage funding is slightly easier to get and, second, their CVs open doors more easily and make their pitches more convincing.
Vaas Bhaskar, partner at venture capital firm Elevation Capital, pointed out that many older Indian startups now operate at sophistication levels that make them good training grounds for future
entrepreneurs
. Plus, he said, ESOPs of many senior employees give them a "margin of safety" when they take the entrepreneurial plunge.
These founders' firms are joining an already impressive group of ex-employee-owned tech businesses. Consider this: former employees of 21 Indian SaaS unicorns have founded more than 185 SaaS startups in the past three years, according to a recent study by Zinnov.