Elon Musk, Mark Zuckerberg lead $852 billion wealth surge among world's rich
The world's 500 richest people added $852 billion to their fortunes in the first half of 2023.
Each member of the Bloomberg Billionaires Index made an average of $14 million per day over the past six months, according to data compiled by Bloomberg. It was the best half-year for billionaires since the back half of 2020, when the economy rebounded from a Covid-induced slump.
The gains coincided with a broad stock market rally, as investors brushed off the effects of central bank interest rate hikes, the ongoing war in Ukraine and a crisis in regional banks. The S&P 500 rose 16% and the Nasdaq 100 surged 39% for its best-ever first half as investor mania over artificial intelligence boosted tech stocks.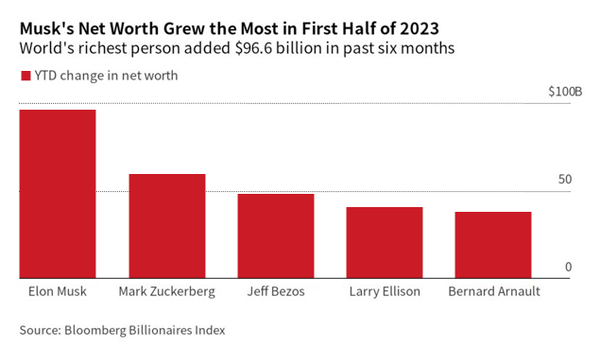 While Elon
Musk
and Mark Zuckerberg flirt with scheduling a cage match, Tesla Inc's chief executive officer came out on top in dollar terms. Musk, the world's richest person, added $96.6 billion to his net worth this year through June 30, while Meta Platforms Inc CEO Zuckerberg gained $58.9 billion.
Gautam Adani's net worth sank the most in the six-month period, losing $60.2 billion. Adani, chairman of Adani Group, also posted the biggest one-day loss of any billionaire, shedding about $20.8 billion on Jan. 27, after short seller Hindenburg Research accused his conglomerate of accounting fraud and stock manipulation — a claim Adani denies.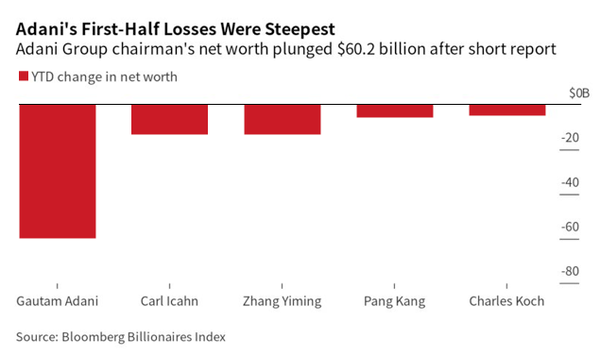 Hindenburg, founded by Nate Anderson, also knocked down the net worth of another billionaire: Carl Icahn. His Icahn Enterprises LP had its steepest one-day drop after Hindenburg disclosed it was shorting the shares, saying the stock was significantly overvalued relative to its holdings. Icahn's net worth fell $13.4 billion, or 57% — the largest percentage drop of any member of the Bloomberg Billionaires Index in the period.