EC giving Rahul Gandhi time to seek legal remedy
NEW DELHI: While disqualified MP
Rahul
Gandhi's chances of reinstatement as a member of the 17th Lok Sabha now depend entirely on whether the
Supreme Court
agrees to stay his conviction in the criminal defamation case, nothing holds back the Election Commission from announcing a bypoll to the
Wayanad
Lok Sabha seat vacated by him even now.
Section 151A of the Representation of the People Act, 1951, mandates the EC to fill casual vacancies in the Houses of Parliament and state legislatures through byelections within six months from the date of occurrence of the vacancy, provided that the remainder of the term of a member in relation to a vacancy is one year or more.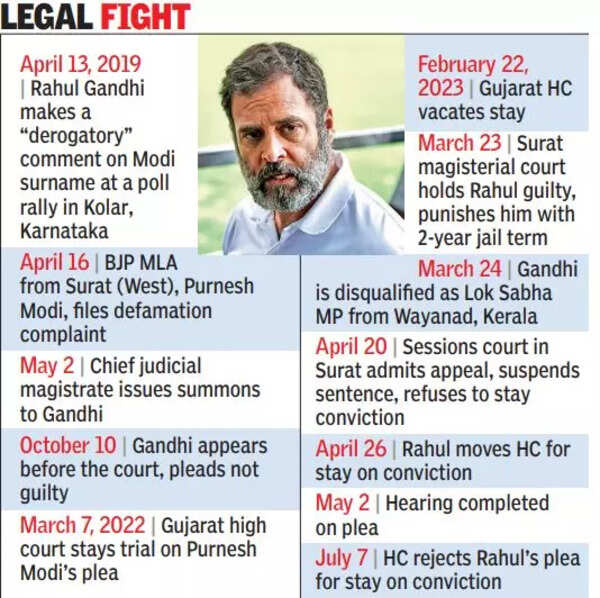 The Wayanad seat fell vacant upon disqualification of Rahul on March 23. As per Section 151A, the EC is mandated to hold bypoll there by September 22, 2023. Since the vacancy arose more than a year before the term of the 17th Lok Sabha is to end, the bypoll cannot be dispensed with, even though the elected MP will only have a short term.
The Congress leadership has decided to appeal directly in the Supreme Court and not approach a division bench of the Gujarat HC to save time, sources said.
Incidentally, the EC was prompt in announcing bypolls to fill up vacancies created by disqualification of Lakshadweep MP
Mohammed Faizal
, SP leader Azam Khan and his son
Abdullah Azam Khan
. In January 2023, CEC Rajiv Kumar had declared a bypoll for the Lakshadweep LS seat just a couple of days after Faizal's disqualification upon conviction in an attempt-to-murder case. However, the EC had to withdraw the poll notification days later, with the Kerala high court setting aside Faizal's conviction.
Sources said the EC is prefering a wait-and-watch approach rather than immediately starting the bypoll process for Wayanad. The idea is to allow Rahul and his lawyers time to seek legal remedies since the law gives the EC six months to hold the bypoll. "There is no hurry," Kumar had said at a press conference to announce Karnataka polls on March 29.
However, there is no clarity from the EC till what stage of legal remedies it will wait before announcing the Wayanad bypoll. Since March 29, the sessions court in Surat and now the Gujarat high court have declined to stay Rahul's conviction. While there is also a possibility that the sessions court hearing a parallel plea relating to the merits of the conviction and sentence awarded to Rahul may cut his two-year sentence – rendering his disqualification ineffective – the proceedings usually last long. Unless such relief comes in the next two-and-a-half months, a Wayanad bypoll seems inevitable.