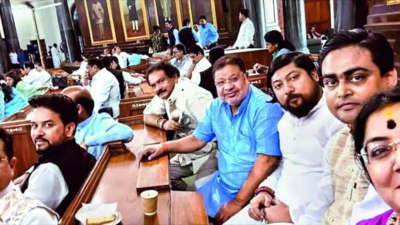 MPs, including Locket Chatterjee, Nisith Pramanik and Anurag Thakur, pose for a selfie in the Central Hall of Parliament on Monday. (ANI)
NEW DELHI: The
selfies
came before the speeches. Most in the officially allotted seats, but some also in the well, where significant action has unfolded in recent years.
As MPs of all hues gathered to bid adieu to the century-old building that housed the current Parliament, it was a day of mixed emotions – some excitement, a twinge of sadness over letting go of the familiar where heaps of memories have been accumulated, and also considerable unease over what the transition is likely to bring.
In both Houses, MPs posed for pictures, some even obliging occupants of the press gallery. Similar scenes unfolded inside the Central Hall, where cups of tea, buttered toast, and
samosas
were passed around amid discussions over whether the chamber would remain in use after the formal shift to the new Parliament building.
In Lok Sabha, the day started awkwardly, with the national anthem playing out twice due to a "technical glitch" that Speaker Om Birla said he will have investigated – once before the House started and a second time just minutes afterwards, after Birla walked in and the proceedings started formally.
PM Narendra Modi then took centre stage, listing the highs and lows of Parliament in its 75-year history, attracting some rare table-thumping applause from the opposition benches when he appreciated the efforts of the marshals and staff. A usually reticent CPP chairperson Sonia Gandhi was also seen participating spiritedly, if only to prompt colleague Adhir Ranjan Chowdhury, as he intervened in the discussion. With Modi making no references to Rajiv Gandhi, Sonia appeared keen that Chowdhury correct the ommission, prompting him to list the former PM's, as well as the UPA government's, achievements.
Rajya Sabha
, on the other hand, was adjourned with Trinamool's Derek O'Brien's speech cut-short abruptly, and TDP and CPI MPs saying they were not allowed to participate in the discussion.