MUMBAI/RAIPUR: A building garbage collection staffer was arrested on Monday for allegedly killing a 23-year-old flight attendant who was found dead with her throat slit inside a 1BHK flat she shared with her cousin at Marol, Andheri (East), Sunday night.
Police were noncommittal about a sexual assault motive. Forensic experts have preserved her visceral samples for further analysis.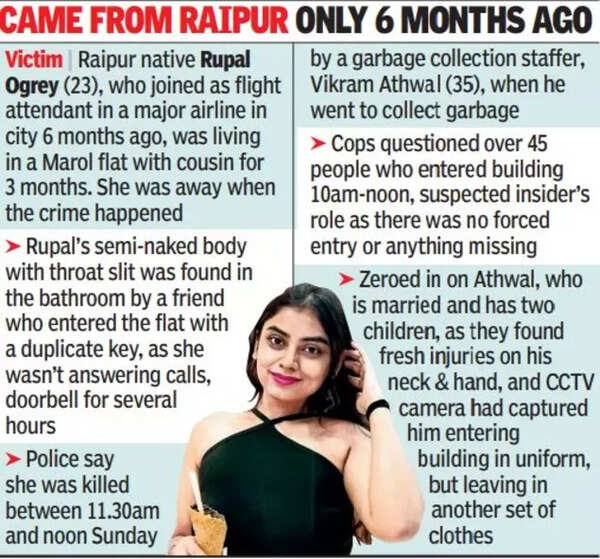 The crime came to light after one of her cousin's friends visited her third-floor flat around 10pm to check up on her, got a key maker to create a duplicate key to her flat as she did not answer the doorbell, and used it to open the door to find the victim, Rupal Ogrey, lying in a semi-naked state in a pool of blood with two prominent stab wounds to her neck inside a bathroom.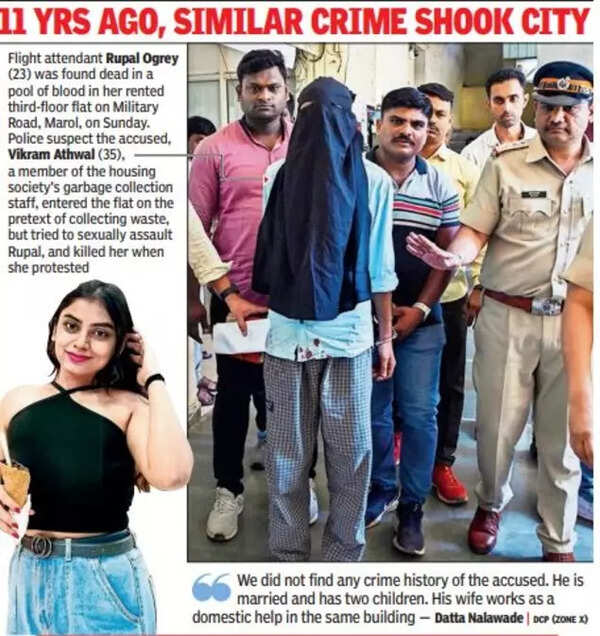 The arrest was made less than 12 hours after the body was discovered in the flat at NG Cooperative Housing Society in Marol-Military Road.
After questioning more than 45 people, including the building housekeeping staff and security guards, Powai police zeroed in on a garbage collection staffer, identified as Vikram Athwal (35), who is suspected of having tried to sexually assault the victim and killing her when she resisted. Ogrey was killed between 11.30am and noon Sunday, police said.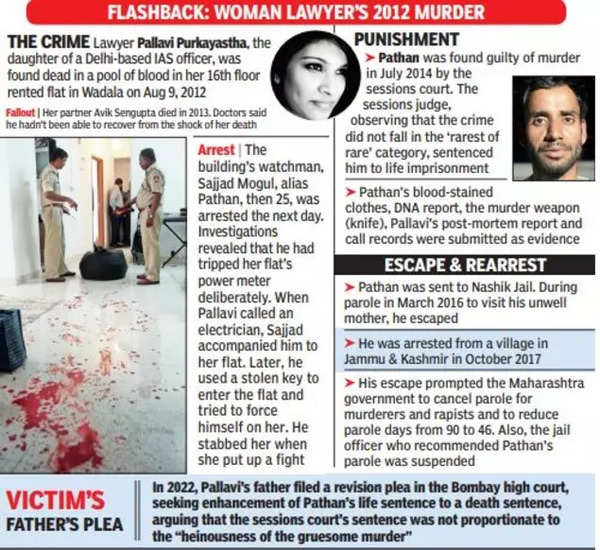 Police have registered a case under the Indian Penal Code Section 307 for murder against Athwal and are in the process of recovering the knife he had allegedly used.
After murder, cleaner washed his uniform, changed clothes
The police team probing the murder of a 23-year-old flight attendant in an Andheri (East) flat on Sunday zeroed in on a garbage collection staffer as there were fresh injury marks on his neck and hands and CCTV cameras caught him leaving the building not in his uniform, but another set of clothes.
Rupal Ogrey, the victim, had spoken to her friends in Raipur before the crime. The victim was a close relative of a police officer, who is a veteran of several encounters with Maoists and deeply involved in anti-Naxal operations.
Vikram Athwal (35), the accused, has reportedly confessed to killing Ogrey after getting access to her flat around 11.30am on Sunday. "Athwal said he entered the flat to clean it. He left it around noon but did not step out of the building for two hours. After committing the crime, he washed the bloodstains off his uniform, changed his clothes, and left the building around 1.30pm and went directly to his Tunga village home in Powai. He reported to work on Monday when he was nabbed," said a Powai police officer.
Ogrey, who had joined a private airline as a flight attendant in March, lived with her cousin, Aishwarya, in the rented flat for the past three months. Aishwarya had gone to their Raipur home a week ago.
"Aishwarya and Ogrey's father got suspicious when she did not answer their calls after 1.30pm on Sunday. Finally, at 9pm, Aishwarya called one of their common friends and asked him to check on her well-being and the incident came to light," said an officer.
DCP (Zone X) Datta Nalawade supervised at least eight teams comprising senior inspector Supriya Patil, inspectors Prakash Kamble and Ganesh Patil, assistant inspector Vinod Lad, sub-inspector Vijay Patil and staff that scanned through the building's CCTV footage and the guest log book. "Police looked into at least 35 persons who visited the building on Sunday between 10am and noon. However, none of the 35 visitors was found to be involved. This made us question the building security guards and housekeeping staff. With technical assistance, we nabbed Athwal who had reported to work on Monday," said Nalawade.
CCTV footage revealed Athwal had reported to work on Sunday morning in his uniform and left the building in another set of clothes. "After questioning at least 40 people, we zeroed in on Athwal and his involvement was confirmed after we found fresh injury marks on his neck and hands. He confessed to leaving the building after changing his clothes," said a police officer.
A building security guard told TOI: "Athwal behaved normally when he reported to work on Monday till the police arrested him. He has been working in the building for the past six months."
"The motive is still unclear. We did not find any past crime history of the accused. He is married and has two children. His wife works as a domestic help in the same building," said DCP Nalawade.
On Monday, the victim's parents and the cousin flew to Mumbai. They were present at Rajawadi Hospital in Ghatkopar (West) where the post-mortem was carried out.
Ogrey was also a digital content creator and an aspiring social media influencer. She had shifted to Mumbai around six months ago to join the airline, said Raipur police.