VIJAYAWADA: Former chief minister and Telugu Desam president N Chandrababu Naidu was arrested by the Andhra Pradesh Crime Investigation Department (CID) in a pre-dawn swoop on Saturday.
Naidu, who was touring the state as part of his pre-election campaign, was camping in a bus at Nandyal when a CID special investigation team woke him at 3am and said he was being arrested in an alleged scam of Rs 371 crore in the
AP Skill Development Corporation
. The scam is said to have taken place between 2014 and 2019, when Naidu was Andhra Pradesh CM.
Naidu was not produced before a court till late Saturday night. A team of top lawyers, including Sidharth Luthra, were waiting at the ACB court in Vijayawada for the former CM to be presented before a judge. However, the CID was still questioning him at the time of going to print late Saturday night.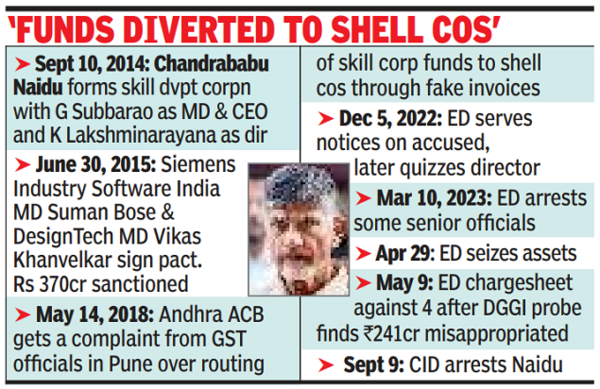 A state of high alert was sounded all over Andhra Pradesh as a precautionary measure as police officers feared TDP supporters might protest and turn violent.
Although Naidu had faced scores of charges of corruption in the past, this is the first time that a criminal case has led to his arrest.
Naidu's name was not mentioned in the
skill development scam
FIR registered on December 9, 2021, but the CID added him as accused No. 37 in the remand report on Saturday. He is now being seen as the principal conspirator and main accused (A-1).