At 4.8%, retail inflation hits 3-month high
NEW DELHI: Retail inflation inched up to three-month high of 4. 8% in June on the back of rising food prices, led by pulses, cereals and products, while industrial output growth rose to a three-month high in May, powered by robust manufacturing sector performance.
Data released by the National Statistical Office (NSO) on Wednesday showed retail inflation, as measured by the consumer price index (CPI), rose an annual 4. 8% in June, higher than the 4. 3% in May. The food index rose to 4. 5% during the month from nearly 3% in May. Urban inflation was higher at nearly 5%, while rural was at 4. 7%.
After softening for four consecutive months, retail inflation has inched up again and is likely to pose a fresh challenge to policymakers. Experts expect the RBI to maintain a pause on interest rates for the rest of the year.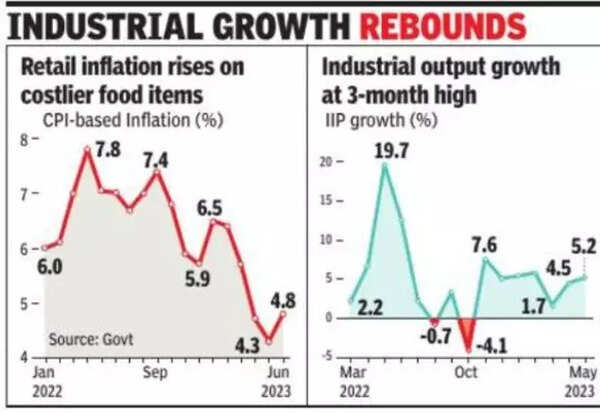 "The sequential momentum in food inflation is concerning. The share of food inflation in the headline inflation has risen to 44% from 36% in the previous month. ," said Rajani Sinha, chief economist at Care Edge. Separate data showed IIP growth surging in May to 5. 2% as capital goods, infrastructure and construction goods and consumer non-durables recorded robust expansion.
But experts said the sector could face obstacles in the months ahead.