At 23% share, Maruti leads Rs 10-20 lakh segment
NEW DELHI: As it adds more premium vehicles to its portfolio,
Maruti
– the leader in budget cars – is now the leading player in the Rs 10-20 lakh segment too, overtaking rivals such as Hyundai,
Tata Motors
and
Mahindra
& Mahindra (M&M).
The company, which recently added the 4×4 Jimny off-roader to its line-up and now drives in the Invicto MPV (a twin of Toyota Innova priced upwards at Rs 25 lakh), has been pushing sales in the premium segments as it vies for better product margins, improved profitability, and high-income customers.
Shashank Srivastava, director (sales & marketing) at Maruti Suzuki, said the company's premium portfolio – especially the one retailed by the upmarket Nexa channel – has been growing at a rapid pace. "With a share of 23% in the Rs 10-20 lakh category at the end of first quarter (Q1) of FY24, Maruti leads the segment as we sell the maximum with models such as the Grand Vitara and Brezza SUVs, XL6 MPV, and the just-launched Jimny," Srivastava told TOI.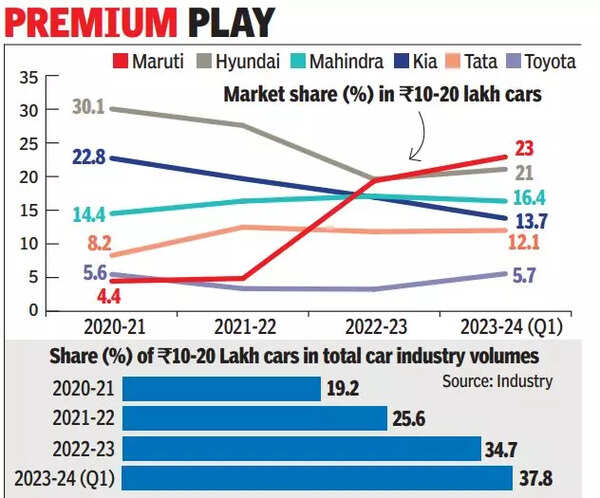 It is interesting to note the growth in the share of Rs 10 lakh-plus vehicles to Maruti's total sales, as this number has moved up dramatically in 4-5 years. "While it was a mere 2.8% in 2018-19, the share of Rs 10-20 lakh vehicles grew to 16.3% at the end of FY23, and now stands at 19.6% in Q1 this fiscal," Srivastava said.
Maruti has long dominated the Indian car market with its compact, budget cars that mainly focus on selling value-for-money offerings. However, with the shift of the market towards SUVs and demand for premiums going up as the economy moved out of Covid lockdowns, customers have been eager to go for relatively-expensive vehicles – a trend which has benefited companies like Mahindra & Mahindra and Hyundai. Maruti too is cashing in on the trend and has been using the vehicles jointly developed (or sourced) with Toyota for this push. The hybrid Grand Vitara is a joint product, and competes with models such as Hyundai's Creta, and Kia's Seltos. Srivastava said that Maruti expects the share of premiums to also go up as the company starts to drive in electrics, beginning 2024-25.