Apple cruises to $3tn on iSequels, not iDeas
Be creative once, sit back and watch the cash flow. Business pundits, with their aggressive proselytisation on innovation, won't like that strategy one bit. But two of the world's biggest money machines — iPhone-maker Apple and movie-maker Hollywood — are doing just that. Just as Hollywood studios' biggest bets — and hits — are prequels and sequels, Apple makes most of its money from a product it launched over 15 years ago — the iPhone, now in its 14th avatar.

Think about it like this: When the first Mission Impossible movie was released in 1996, Steve Jobs was yet to return to Apple and start his remarkable second innings. Now, 26 years later, the
Tom Cruisestarring MI
franchise is gearing up for its 8th film, while Tim Cook-led Apple, the world's first company to surpass $3-trillion market capitalisation, will unveil the 15th version of iPhone. In 2022, 52% of Apple's $394-billion revenue came from iPhone sales alone. Apple's stock has surged 53% this year, taking its mcap beyond $3 trillion, a mark it first hit in intraday trading in January 2022.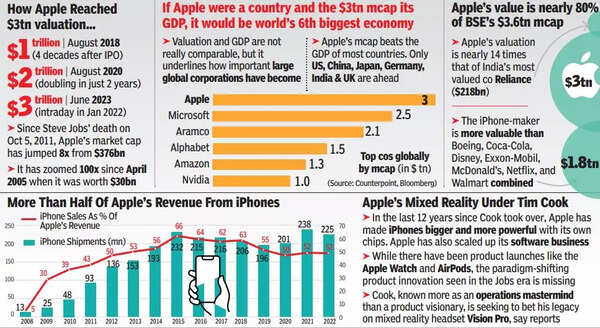 But just as movie mavens critique Hollywood for failing to come up with new creative ideas, Apple, after virtually creating categories, is now an underwhelming company when it comes to new, exciting tech. It sticks to incremental tech upgrades in its products, relying on the stickiness of its ecosystem to build brand loyalty.

Is that about to change a bit? Most of the Apple stock's recent rally can be attributed to the buzz around its mixed reality headset Vision Pro — the company's biggest launch in nearly 10 years, according to the Wall Street Journal. But, and this is a crucial but, Apple has been forced to make big cuts to production forecasts for Vision Pro, the
Financial Times reported. The forecasts for low volumes reflect Apple's lack of confidence in scaling production, say analysts, following years of missed deadlines.
Cruise is 61,
Cook
is 62. Cruise has helmed one of Hollywood's most money-making franchises, Cook has led Apple from an mcap of $376 billion to $3 trillion. Business and movie legends are built more on inspirational ideas and memorable performances, not monstrous mcaps and blockbuster box office collections.