41 more lives lost in unrelenting rain in North, flood fury in states
NEW DELHI: The combined might of the monsoon and a western disturbance continued to barrel down on northern India, leading to more deaths and causing extensive landslides and flooding in the mountains and the plains, with the swollen and swift-flowing Beas, Satluj and other rivers and streams taking down houses and parked cars, and submerging cities, villages and swathes of cropland.
In worst-hitHimachal Pradesh, chief minister
Sukhvinder Singh Sukhu
put the death count at 17 since Friday and said the estimated loss to public and private property has already reached around Rs 4,000 crore.
Relentless torrential rainfall has caused widespread damage to infrastructure, including roads, power transformers, electric sub-stations, and numerous water supply schemes. Officials said 4,686 transformers were damaged, leaving hundreds of villages in darkness.
A portion of the Manali-Leh national highway collapsed on Monday, severing road connectivity to Lahaul-Spiti district and Ladakh. Efforts are underway to evacuate about 300 tourists and residents stranded in Lahaul-Spiti and Kullu districts using helicopters as soon as weather conditions permit. Approximately 70 tourists en route to Manimahesh lake in Bharmour region of Chamba district are stranded.
The Shrikhand Mahadev Yatra has been abruptly halted for the remainder of the season due to six reported deaths during the pilgrimage.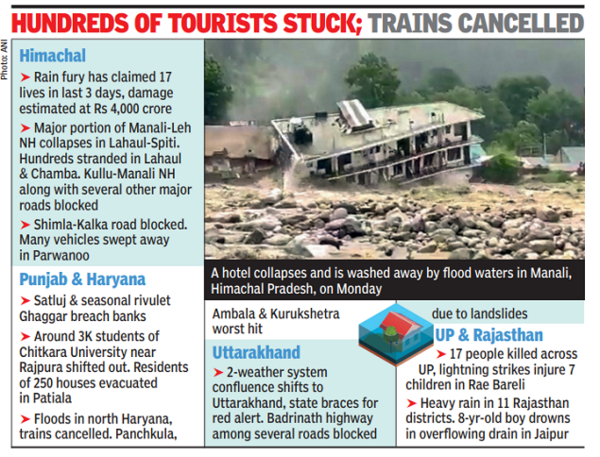 Punjab reported at least three deaths as the state grappled with devastating flooding, prompting authorities to mobilise rescue, relief and evacuation in several areas, including Mohali, Ropar, Fatehgarh Sahib, Jalandhar (rural areas), and Patiala — the districts hit the hardest. Fourteen teams from NDRF, two units of the SDRF, and 12 columns of Army and Punjab Police personnel have been deployed to address the crisis, DGP Gaurav Yadav said.
CM Bhagwant Mann assured the public that his government is actively working to provide relief. He announced a special assessment, known as girdawari, to evaluate crop loss, as well as damage to houses and livestock.
Rain in Haryana has caused significant damage to rail routes, national highways, bridges, and power stations across the state. The death toll has risen to five, with a couple losing their lives due to a house collapse in Karnal, and three children perishing in a landslide in Pinjore.
Around 50 trains on various routes, including Kalka-Shimla, Chandigarh-Ambala, Ambala-Saharanpur, Chandigarh-Morinda, and Nangal-Una, have either been cancelled or diverted due to landslides and flooding on the tracks. Some trains between Chandigarh and New Delhi, including the Shatabdi Express, have also been affected.
Watch Himachal Pradesh: Heavy downpour leaves a trail of devastation in hill state