MM Sreelekhais a Music composer and playback singer in Indian cinema who has produced music for more than 80 films in various Indian languages and has sung more than 4000 songs as a singer. She is also the only female music composer from Indian Telugu film Industry and is a cousin to Legendary film technicians SS Rajamouli and MM Keeravani who made 'Baahubali' and 'RRR'. Her paternal uncle V Vijayendra Prasad is a notable writer in Indian cinema and Sreelekha composed music for his directorial film 'Srivalli' in 2017 (her 75th film).
Having started her musical career with the 1992 Tamil film 'Naalaya Theerpu' at the age of 12 as a music composer she has completed 25 years in the industry this year and last year she has given music to the superhit Telugu crime thriller 'HIT: The Second Case' which starred Adivi Sesh and Meenakshi Chaudhary in the lead roles. It was directed by Sailesh Kolanu and funded by Nani.
Ahead of 2023 Women's Day, ETimes approached the talented music composer and singer MM Srilekha to discuss her career, upcoming projects and more and below are the excerpts from the exclusive conversation, read on…!
Could you please tell us how music happened to you at the young age of 12?
It all happened while I was assisting my uncle Vijayendra Prasad garu. Wherever he went, I used to go with him with my toy (a small musical keyboard). One day he was visiting Tamil film director SA Chandrasekhar to narrate a story and I was with him with my keyboard. After my uncle completed narrating his story the filmmakers and director present, enquired about me and my uncle introduced me as his niece with some musical talent. They wanted to hear a song from me to test my musical skill and then I had to sing 20 songs.
They felt why can't introduce me as a musician in their film as the director was also launching his son (Thalapathi Vijay) as a lead actor with 'Naalaiya Theerpu' (1992). And the very next day, I started my musical sittings and recording for the film and I was a music director from that day forward (laughs). It all looks strange to one but that's exactly what happened to me at the age of 12.
The same was the case my with Telugu musical debut. I was accompanying my uncle when he was visiting Dasari Narayana Rao garu for some story sittings and this time they already heard the music of my first film and saw me singing live, they zeroed in on me as a music composer for their Telugu film 'Nanna Garu' (1995).
Since you hail from a film family can you elaborate on your upbringing and younger years?
My father was into spiritual engagements such as meditation, astrology and practices like that. My father has 5 siblings and my father is number is the second youngest. I'm his only child. My uncle Vijayendra Prasad is the youngest, he is a film story writer and I used to accompany him no matter what and wherever he went. I studied only LKG and stopped with that as I was more passionate about music than my studies. My uncle Shiva Shakthi Datta's son is MM Keeravani and he was assisting music director Chakravarthy. He used to leave his harmonium box at home only on Sundays and tell me what ragas he had learnt from his guru and I imbibed those from him in no time.
But I have learnt close to 100 Shlokas from the Soundarya Lahari album composed by Sri Shankaracharya, reciting them daily has expanded my musical sense.
I started composing tunes at the age of 8 and my first song was used in the film 'SP Parasuram' pictured on Chiranjeevi and Sridevi's titled "Yedavaku yedavaku yedavaku Ammaku Praanam Nuvvenamma….!" That was my first song and my brother MM Keeravani had brought me an ice cream for composing that tune. He encouraged me with more ice creams if I composed more of such soothing tunes. So, I used to impress him with my music and tunes for ice creams.

What much did you earn for your debut film?
I earned a 25000 cheque in those days for my film composition and songs. I didn't even know how much that money was worth, I asked my uncle how many ice creams and chocolates I could buy with that money, and they used to tell me a number that made me happy. That's how my musical career was established for ice creams and chocolates.
Nowadays, composing music for a feature film requires a lot of technical equipment such as a sound card, mixer, acoustics, sound designing, DTS mixing and much more. How did you acquaint yourself with all that without technical knowledge or equipment?
Back in those days, film music used to be analog, we didn't have all this technology, musical softwares and gadgets. Even today I love composing and mixing analog music. I feel, with the advent of all these digital technologies and sounds, music has lost its weight. There is no clarity between instruments these days due to digital music production.
But that was not the case earlier. There used to be a crystal clear demarcation of what instrument is used and its notes with tempo. But now, it is getting compressed and I used to take the help of the recordists because I'm not a technical person with any formal education. I used to focus on my tunes, ragas, pallavis and soul in the music. I believe that made the music connect with me and even a common man was able to relate to my songs for that matter. Anyone can hum my tunes easily.
That is how I composed the song …"Modati sari muddu petite yelaaguntadi Ababa bhaleguntadi….!" And another one…"Neekosakam jeevincha Chilaka"…! "Kantene amma…song"
So it would be safe to say you got your musical break due to Vijayendra Prasad garu.
I got my introduction to the Industry by accompanying him but later on it was only my work that made an impact. If that wasn't good enough I wouldn't have come this far, nor the filmmakers would have come to me for my music again.
My third film was 'Taj Mahal' and it was produced by senior producer D Rama Naidu garu. You can imagine the level of confidence they had in me and the film 'Taj Mahal' was a big musical hit at that time.
Your discography reveals that you have composed lots of music for D Rama Naidu garu. Can you talk about your association with him?
Ever since I did 'Taj Mahal' for him, he had developed a lot of confidence in me. We associated for around 13 movies together and most of them turned out to be superhits. The same was the case with my association with Jagapathi garu's films. Most of my movies had him as a lead actor.
Does mainstream Telugu cinema still have inhibitions towards signing a female music director?
Not an inhibition, but they'll have a second thoughts as they can't discuss everything freely with a woman as they do with a man. In that way maybe they have some second thoughts. But when it comes to working I'm very professional but how can I convey it to them and to how many people I can tell that? They'll have their reservations and I can't do anything about that.
Have you ever asked for a film project with SS Rajamouli, If so what was his reaction?
No, I have never asked for that, and there is no rule that just because he's my brother and he's a successful film director, he should have an obligation to give me a movie project. I don't want to break the beautiful bonding between SS Rajamouli garu and MM Keeravani garu, because they were doing good films together right from Rajamouli's first film.
Say if I did a movie with him, people will say just I got the movie project because I'm his sister. People will react to anything. But we have a very good rapport as cousins. Rajamouli recently launched a poster for 25 years of my musical journey and complimented me on various instances of my musical success. As brothers, they take good care of me. Therefore, I see him as a brother more than anything else.
Why do your family members have different initials, when you are all from the same family tree? If Rajamouli garu uses SS initials, Keervani garu has MM initials. You have a different screen name as 'Manimekalai'. Does your family have Tamil ancestry?
We all have a common family name 'Koduri', but these names are the compressed ones. Rajamouli garu's full name is Koduri SriSaila Sri Rajamouli, he writes it as SS Rajamouli. Whereas for MM Keeravani garu, his name is Koduri Marakathamani Keeravani and he shortened it to MM Keeravani, whereas my name is Koduri Manimekalai Sri Lekha and I go with MM Sri Lekha. These things happened with Tamil filmmakers like Balachander garu and SA Chandrasekhar crediting us in such a way in Tamil cinema.
Who inspires you to make music, and who do you admire and idolise?
It's always Ilayaraaja garu. He is my inspiration. His music has got power. There is no raga that he didn't touch and there's no situation that he can't compose music for. He is a real master of all, therefore I have followed him and admired his music since childhood.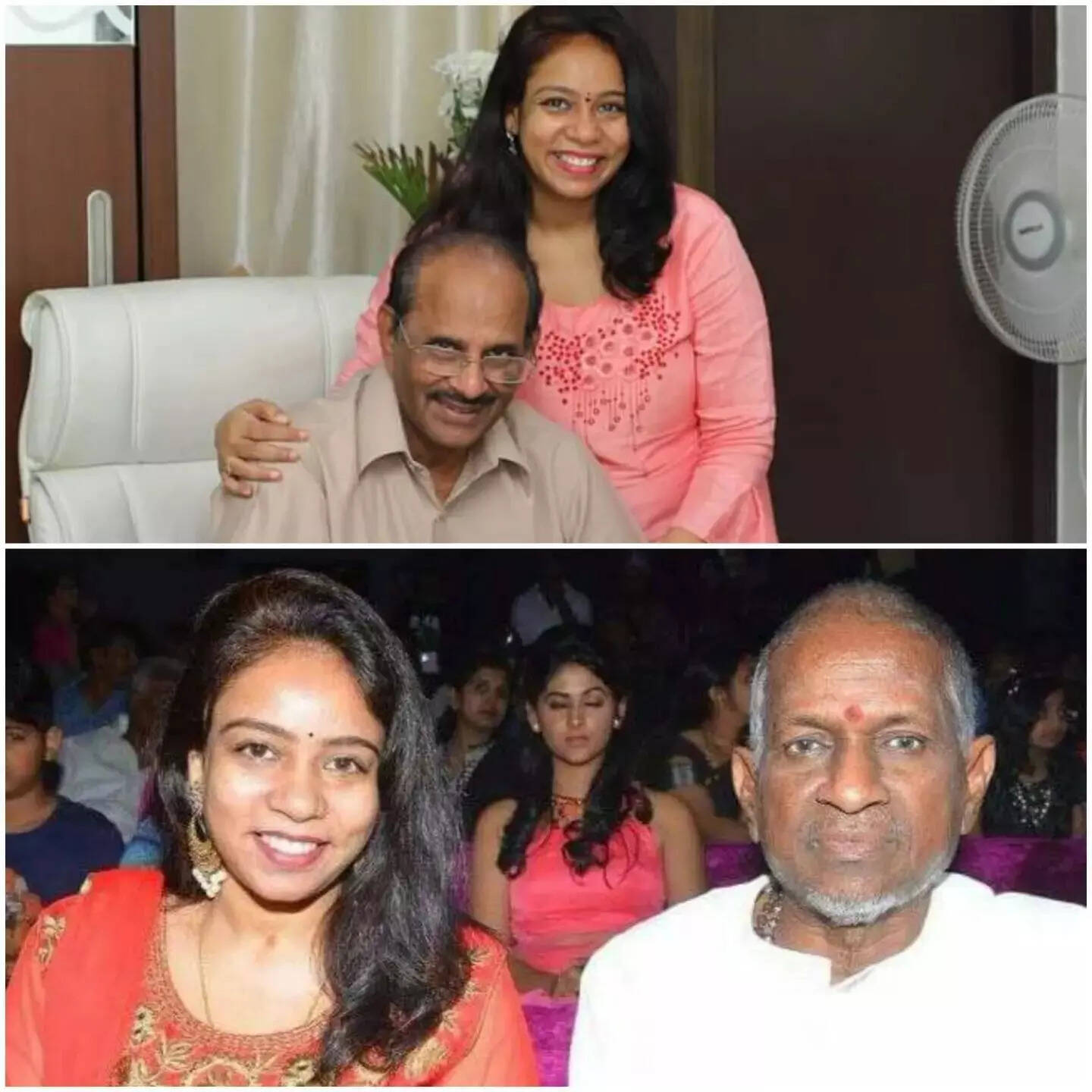 Like MM Keeravani garu, why have you never composed a private album? Has that been a conscious decision to not compose singles?
It's not like that. It is a time-consuming process. I always wanted to do that, but, I don't want to do such music videos just because I want to do them for my namesake. I wanted them to be professional and on par with my film music. Then again economics is also involved in making such videos. But, I want to make such music too.
However, I have done one single for Mango Music recently, it was sung by singer Sunitha and it was penned by Kadali and it will be released soon.
Will a male music director and a female music director compose a different kind of music for the same situation and lyrics? Does gender influence the process of composing?
There can be, it depends on what point of view they look at in a situation and what kind of raga they want to use to compose the music. A person's upbringing, personality and mindset will reflect in their music therefore I would say yes.
What can you reveal about your upcoming projects?
I have not yet committed to any new ones. Right now I'm on a musical tour on completion of 25 years of my journey as a music composer. I'll be touring over 25 countries for the next 8 to 9 months. After that, I will announce my new projects.
I'm starting my first musical night in Qatar on March 17, and on the 19th I will be in Abu Dhabi. The schedule goes on for around 9-10 months and Ravi Melodies organizers are taking care of this musical tour.
What about your personal life? How happy are you?
I'm very happy with my personal life too. I have a son named Mahimaan who is 6 years old. He is extremely hyper and restless. I'm sure he'll achieve something in the future.
Also Read:
1
/11
'Shehzada','Selfie','HIT:FirstCase' and 'Mili'; Ten disaster Hindi remakes of South Indian Blockbusters
Left ArrowRight Arrow

Share this on: FacebookTwitterPintrest