16k evacuated from risky areas as Yamuna hits all-time high
NEW DELHI: The
Yamuna
, which has been in spate for the past two days and had crossed the danger mark, rose to its highest level on record and began to submerge low-lying areas of the city on Wednesday. The river was flowing at 207.95 metres at 9pm, having breached the previous highest mark of 207.49 metres reached in 1978, setting off alarm bells in the city.
Central Water Commission said the level would peak at over 208 metres between 8am and 10 am on Thursday, and then start falling around 2pm. 03:03
Delhi floods: Yamuna river flowing at 207.25 metres at Old Yamuna bridge, nears all-time record
As the water gushed into low-lying areas, colonies and markets, the authorities evacuated 16,564 people. About 14,534 of these took refuge in tents pitched by the Delhi government and under flyovers.
Late in the evening, officials had to conduct a rescue operation at
Vishwakarma Colony
. At night, a section of Bhairon Marg got flooded trapping a DTC bus.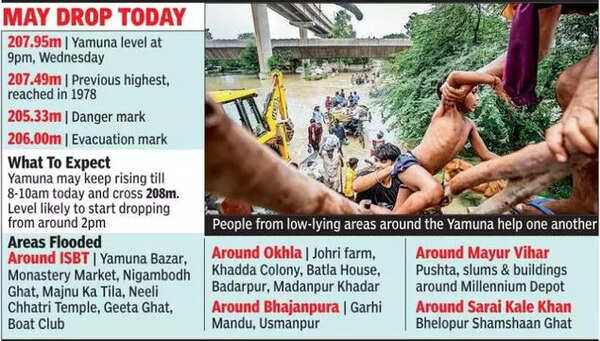 All flyovers in the Delhi section of Noida-Link Road and service lanes till ITO were full of people and their cattle.
Delhi Disaster Management Authority will be meeting on Thursday to discuss the situation and review the rescue work. Chief minister Arvind Kejriwal held a meeting with all stakeholders while lieutenant governor
V K Saxena
visited the riverbank and interacted with people rescued by the district administration. 01:16
River Yamuna flowing just few inches below highest flood level in Delhi
Areas along the riverbank, like Yamuna Bazar, the popular Tibetan Monastery Market and Nigambodh Ghat – where cremations were called off around 6pm – had waist-deep water leading to people taking refuge on terraces or first floors or shifting to other places. The mouth of residential areas across the road from Vishwanath Sanskrit Mahavidyalaya, near the Tibetan Market, got inundated because of the drains overflowing before some bungalows near Chandgi Ram Akhada.
The other areas affected were Boat Club, Neeli Chhatri Temple near the old railway bridge,
Vishwakarma Khadda Colony
at Jaitpur, near
Kalindi Kunj
, Garhi Mandu, Usmanpur, Madanpur Khadar,
Mayur Vihar
pushta and DND.
Meanwhile, Basanti Devi, who had taken refuge under the Mayur Vihar flyover, was distraught. "Many of our belongings were still inside. I came here around 10am with my daughter-in-law and grandchildren. My sons are still stranded there," she said, claiming that around a hundred people were still trapped in the low-lying areas close to the riverbank.
This was seconded by Jamuna Devi, who had also taken refuge under the flyover. "Some people are still stuck with cattle and bikes. They are short of tents and that's why we are stranded on the bridge with our cattle," she said.
Sunita, who had also taken refuge under the flyover, said, "We not only lost our homes which would cost a lot of money to rebuild but also crops, the only source of our livelihood. We want to save our loved ones and nothing else."
"My school uniform and books are all destroyed due to the flooding. I can't study or go to school until we go back home. There are many children like me whose education is suffering due to this," said a Class IX student, Nandini.
The CM office said that Kejriwal has directed the officials to safely evacuate residents from the vulnerable low-lying areas and provide every possible facility at the relief centres.
Meanwhile, the LG met several families who had been shifted to safer locations. "Visited the inundated banks of Yamuna and witnessed the preparedness of agencies. NDRF teams have been deployed to assist in case of any eventuality. I appeal to people of the city not to panic and those stuck in flooded areas to evacuate," he tweeted.
Late at night, DM (East) Anil Banka told TOI that over 45 boats had been pressed into service to evacuate people. "Those who are left now are the ones who are at a higher altitude and in the safe zone."
Watch Yamuna swells to record level; Delhi CM Kejriwal calls for urgent evacuation, Section 144 imposed in some areas